Hold the Light releases August 15th
Hold the Light releases August 15th. YES, I said August 15th. I know!! Right?!? SO excited. And I'll be smack in the middle of the stupendously awesome Oregon Christian Writers Summer Conference. Talk about a fun week! All the things! I'll also be mentoring at the conference, so if you're a budding writer, sign up and let's chat!
There's a rumor I'll have my author copies in time for the conference, which makes my little author heart go pitter-patter. (Update: I HAVE THEM. THEY ARE GORGEOUS!!).
There's really nothing like waiting for a book-baby to show up. Okay…maybe a real baby. But a book baby is the very next best thing. To me.
I'm already getting feedback on the book, and it's wonderful to hear that my prayers in my intentions and hope are touching hearts and bringing people comfort and encouragement. That's the second best thing to holding the book baby–touching others with big ideas that I've had hidden in my spirit for some time. ALSO Hold the Light will be released in audio book form for the vision impaired and audio book lovers!
How can you help a girl get the word out about her book? Share this post, pre-order Hold the Light and please, please, please write reviews!
To pre-order, click HERE. And thanks so much in advance!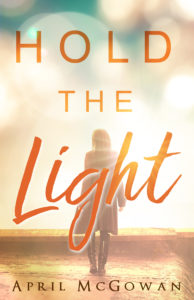 To an artist, the light is everything. So what is Amber supposed to do when facing blindness?
Amber spent her life adapting first to being abandoned by her birth mother as a toddler, and then to the death of her adoptive father in her teen years. Now she s moved past all that, loving life as an independent woman: she has a job as an art instructor and the perfect apartment.
But when a routine eye appointment reveals she's losing her sight, life comes to a halt. Pressures come at her from all sides. Her mother, her boss, her boyfriend and her closest friend, Shannon, all have ideas about what's best for her.
Even after her blindness counselor, Ethan, befriends her and opens her eyes to new opportunities and the possibility of a deeper relationship, one haunting question remains: How could the God she loved all her life turn everything upside down again?