Book Signing in Wilsonville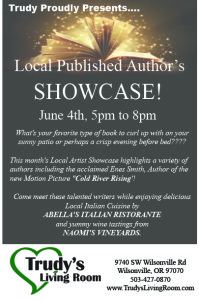 Greetings. Just a short post to let you know I'll be at Trudy's Living Room home furnishings in Wilsonville to take part in their Thursday Author Spot light and art walk doing a book signing. I hope you'll stop by and visit with me. Click here for the directions to the event: MAP
I'll have copies of Jasmine and Macy for sale–but even if you've already read them, I hope you'll stop by and chat. I love attending these events and visiting with you!
In other news, I've gotten several messages asking when my next book will be out. My agent is in process of contacting publishers, so please pray about that with us. I trust there is just the right place for To Hold The Light. I love this story so much. I can't wait for you to read it!
Don't forget to come visit me on Thursday.
Many blessings,
April