Surrender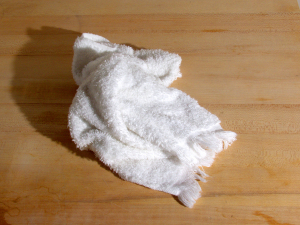 Life can take us by surprise, can't it? Oftentimes those surprises are hard, rather than sweet celebrations. You only have to open your email or your Facebook to see someone going through a hard time. We all know people suffering–maybe you are suffering.
Our culture preaches preparedness. From natural disasters to retirement, you've got to have a plan. You've got to stay on top of things–you've got to stay in control. Have that escape route ready, that insurance policy up to date. Keep going, never say die, never surrender, never throw in the towel. You've got this!
While it's irresponsible not to do our best to be prepared for the unforeseen–I shouldn't get comfortable with my own preparedness, the illusion that I'm in control. Because even when I've got my helmet on, my shelves stocked with food, my legal papers all in order, I can still be blindsided by events. The death of a loved one, a devastating injury, a new illness–the unexpected can literally take our breath away. So, what do we do then?
There's no easy answer to that. Even as I type, names of people going through the unimaginable race through my mind. All I can say is God knows what you're facing and, if you are His, He is with you. In my own experiences, the more I try to hold onto plans and ideas of what life is supposed to look like, the more I end up feeling embittered, frustrated and depressed. I lose hope. After all, wasn't I ready for what life threw at me? Obviously not. Conversely, the more I pray for the Lord's will in my life, the more I give up my scramble to control, the more peace I have, the more satisfied I am with life. One definition of surrender is to give oneself up, to yield or submit to another. We just finished reading a book the other day, and there's a quote at the end that's really stuck with me:
"The more we let God take us over, the more truly ourselves we become – because He made us. He invented us. He invented all the different people that you and I were intended to be. . .It is when I turn to Christ, when I give up myself to His personality, that I first begin to have a real personality of my own." ~C.S Lewis, Mere Christianity
A verse from the Bible shares the mystery I've come back to many times is 2 Corinthians 12:9-10 But he said to me, "My grace is sufficient for you, for my power is made perfect in weakness." Therefore I will boast all the more gladly about my weaknesses, so that Christ's power may rest on me. That is why, for Christ's sake, I delight in weaknesses, in insults, in hardships, in persecutions, in difficulties. For when I am weak, then I am strong.
Are you suffering? You are not alone. I'm not saying, "There are people the world over who are suffering, buck-up camper." No, I mean, "Take heart, YOU are not alone. He is with you."
Deuteronomy 31:8 The LORD himself goes before you and will be with you; he will never leave you nor forsake you. Do not be afraid; do not be discouraged.