Tea and Sympathy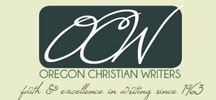 I'm sitting at my desk with a pot of tea planning for next week. The 12th to be exact. I'm heading off again to the Oregon Christian Writers summer conference. If you're an aspiring author, or love writing and just don't know how to channel  your passions better, take my advice: go to a writing conference. Where else in the world can you meet people that live in their heads like you do? That imagine deaths, births, marriages of fictional people and cry over them like you do? No one thinks you're strange there!
Not only that, but there are classes to help you improve, meal times to increase your network, people to mentor, and chance encounters (or in my world, God-directed encounters) with other writers who will make you better, build you up, pray for you (if you attend Christian events) and be there when you're experiencing personal doubts and crisis (read free counseling).
This year will be a bit different for me. This year I get to take my books with me. My wonderful editor Roseanna at WhiteFire Publishing has worked doubly hard to send me a box of advanced copies to take and put in the book store at the conference. If you've never been, this is a room set aside for all the published authors to share their wares. And this year, I get to, too. (Can you hear the yippee?).
I remember my first conference, some seven years ago, and walking into that room and seeing everyone's novels and non-fiction books. From historical to how-to, they're all there, many by authors I'd read  and several new ones. At the time, I was the librarian for my church, so I had a field day buying up local authors (Oregon seems to be a fertile land for Christian authors) and then taking them home with me for the library. I did that for many years, in fact. Such fun!
FYI the bookstore will be open for an autograph party on August 14th at the Jantzen Beach Red Lion from 4:45-5:45 if you want to drop by!
I'll be posting about the conference on my Twitter feed and to my Facebook page. I'll try to take photos and be diligent!
Meanwhile, could you do me a favor? If you've had a chance to read Jasmine in e-book or were one of the lucky few that pre-ordered the paperback and got it early (by Amazon error earlier this week!), would you stop by the Amazon site (or your favorite online retailer) and leave a review? I'd really appreciate it! It helps more than you know.