Dreams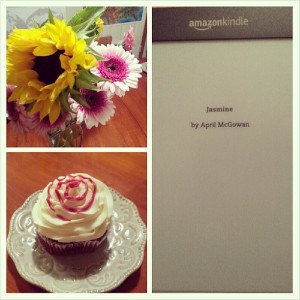 Saturday was an amazing day. Actually, it started Friday evening. I got home to discover that Jasmine was LIVE digitally, out there on Amazon (don't worry, it's becoming available on other formats as the week goes on-I'll keep you posted). What an incredible feeling. I"ve been doing guest blog posts here and there, marketing and sharing and suddenly, there she was. I downloaded it to my Kindle right away. As soon as I flipped to the title page, I started to cry. I'd realized my dream of being published.
I've been so focused on guest blog posts and lining up marketing, so focused on the date on the calendar, that when my husband suggested we do a little something to celebrate, I couldn't fathom it. Being the loving, wise, man he is–he completely ignored my protests and picked up some delicious gluten free cupcakes from Piece Of Cake (if you haven't eaten their wares, you MUST) and a bouquet of beautiful flowers. At the top, you can see a cute collage photo of our celebration my daughter made.
I'm like a proud new mama–there she is, isn't she pretty?
Have you ever realized a dream–or are you still waiting for one? I'd love to hear your stories.
And thanks for all your support in making this one happen for me.