Wonderful Baby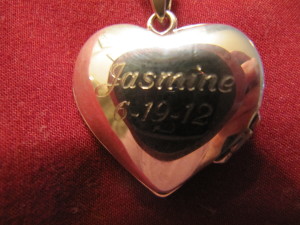 I use song titles for my blog posts. I'm very connected to music when I write and it just takes a bar or two of something on the radio to transport me to another place. So, when I started to think about this post, I immediately remembered a song I loved when I was a kid. I'd lay on the floor in front of my mother's record player and listen to her Don McLean album. Wonderful Baby would conjure up the best images in my little-kid mind. And with the launch of my book creeping up on me, it's the first song I thought about for the title.
Deep breaths! About four months from now my novel, Jasmine, will be released digitally (JUNE!) and then in September to paper. It's been a long time coming.
In talking with a good friend the other day she commented how she thought the hard part was finding a publisher. And indeed-that's hard! But there were those many, many years writing short pieces and novels that won't see the light of day. There are all the classes, conferences and connections made with professionals in the field. Then came building a following on my blog, Twitter, Facebook, Google Plus, and Goodreads.
Waiting for a book to be published is like waiting for your baby to be born. At first you're super nervous, because what have you gotten yourself into? Do you even know how to be a parent? You have a panic attack or two and then decide to break the news to family and friends. Their excitement carries you along and you start to feel like, "Yeah, I can do this!" And then the nausea and vomiting comes—scratch that, I didn't throw up when I found out about Jasmine—I will, however, spare you the gory details of my 18 months of vomiting with my actual pregnancies.
Um…where was I? Oh yeah. You start preparing for the baby's arrival (market plans). Then comes all the scary videos on how hard and painful things are going to be. Complete strangers (seriously, this happened to me a lot!) tell you horror stories about their birth experiences, and you begin to imagine the worst. You're suddenly back at what have I gotten myself into?
That's where I've been for the past few weeks. Excited but uneasy. Self-doubt creeping in. But, then I spied a locket my dear friend gave me when she heard about my publication debut (see photo). She hadn't a clue that writing a novel was so similar to the birth process or how meaningful that locket would become to me. But, every now and then, I just pick it up and stare at it, a silly grin plastered over my face.
As I'm preparing for the baby book launch, will you stand by me and pray and help get the word out? I'd so appreciate your help. Please share my blog with your friends and ask them to sign up so they don't miss out on any announcements. Just as it takes a community to raise a child—it also takes one to launch a book!
Do you have a blog I can be a guest on? Are you in a book club? Can you help me by posting on Facebook, Twitter and other avenues as the days draw closer? I'd love to count you in my launch team! Leave me a message below.