Picket Fences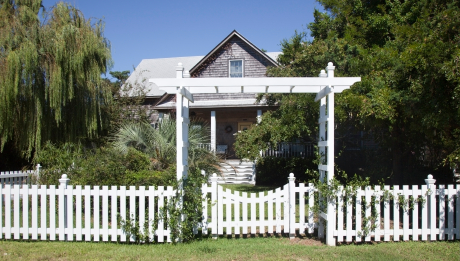 White picket fences often symbolize the American dream of owning a home; they might bring cozy feelings or fond memories. But, I have a different sort of memory when I look at them.
When I was a kid, I was a fairly good kid, but I made some mistakes. Like the time when I stayed over at a friend's house, and we snuck out. For some reason we got it into our heads that it'd be really cool to spray paint stuff. Now, before you start shaking your head at me, please know I am NOT proud of this moment in my life.
Our paint color of choice was silver, for no other reason than it stood out as we scrounged in her mom's storage closet. After midnight, we climbed out of her bedroom window and slunk off in the dark to make our mark on the world. I was 13.
First, we sprayed our names on the sidewalk (I didn't say we were smart about this). Then we colored some bushes that took on an alien-like glow under the moonlight. As we ran around the corner snickering from the brilliance of it all, we spied just the thing we'd been looking for: A white picket fence. We proceeded to paint ever other picket with a silver circle. Just as we finished our work, the porch light came on and we tore off up the street, panting in fear. By the time we'd reached her house though, the fear was gone, and even the excitement of our evil deed had dwindled. I climbed back through her window, into my sleeping bag and never gave it another thought. At least not for several years.
Three years later, my parents bought a house. It was the first house I'd lived in since I was a baby, our having rented until then. We got all moved in and were taking stock of a few maintenance things that needed doing. My mom stepped outside to the front sidewalk and I heard her exclaim, "Who in the world would paint silver circles on a white fence?"
Until that moment, I had not given one thought to my little painting excursion. I froze, my heart beating wildly in my chest. How likely was it that we'd buy the house I'd defaced? I mean, really? My mom called me outside, and as I strode through the gate, all time stopped. Yep. The fence.
I'm not sure of the exact words right now, but our conversation went something like this:
"I mean, who would do that?" She pointed to some faded dots.
I swallowed hard. "I did."
"What?" My mother's eyes went from disbelief, to shock, to shame. And I shrank about four feet as I admitted what I'd done. Before she doled out punishment for my crime, I came up with a solution.
"I'll repaint it."
While I painted, I considered what transpired. It wasn't just chance that in the whole town, we'd bought this house. I knew that, deep down. I had been given a opportunity to make things right, to confess my sin and ask for forgiveness. And I learned another lesson that day—God knows all, sees all and wants us to know that. I learned I was accountable for the things I did, even the things I thought I'd done in secret.
When I look at picket fences, instead of feeling guilt, I'm assured. God cares for me—enough not to let me get away with something I shouldn't have, enough to want a relationship with me, enough to remind me that no matter what is happening in my life, good or bad, He knows. What a comfort that is.
Psalm 139: 1-6 You have searched me, LORD, and you know me. You know when I sit and when I rise; you perceive my thoughts from afar.You discern my going out and my lying down; you are familiar with all my ways.Before a word is on my tongue you, LORD, know it completely. You hem me in behind and before,and you lay your hand upon me. Such knowledge is too wonderful for me, too lofty for me to attain. (Read the full text here.)