What are you getting?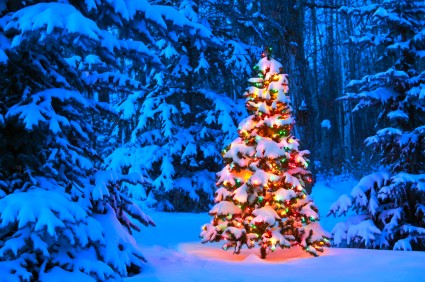 Guess what? It's almost Christmas. And unless you've been living in a cave somewhere, the advertising gurus of the world have been drilling the holidays home into your brain for well over a month now. In fact, I think I saw Halloween and Christmas decorations up at the same time somewhere.
It's easy to get caught up in the mad rush to get it all done. That's one reason we, as a family, try to plan it all out early, so we can enjoy the day to day traditions we love so much about the season. Getting up every morning and turning on the tree and lights. Reading from scripture about the Christmas story. The kids taking turns reading our advent calendar. All along, pointing our family to the real reason for the season—Jesus birth.
I love Christmas carols and all the music playing on the radio—I don't get one bit upset when they start to play it before Thanksgiving, because to me Thanksgiving rather ushers in a whole month of thankfulness that I feel when I remember the gift God gave us in His Son. The lights on the houses and trees serve to remind me that He is the light of the world. And when they play hymns on the radio, I feel blessed that they are playing music to my Lord every day for a full month—all because of His birth. Who else get's a month long birthday celebration?
Now, I'm not naïve enough to think that everyone who celebrates Christmas is Christian, or even knows why we celebrate. I'm reminded of a mom and daughter a few years ago who were looking at boxed Christmas cards next to me. I was struggling to find just the right ones, and the daughter (about 16) held up one to her mother and asked, "What the heck does Im-man-u-el mean anyway?" Her mother shrugged and said it was probably something religious and they tossed the cards aside, moving on before I could speak. That event served to remind me I should always be ready with an answer.
Immanuel. God with us. God came down in the form of a helpless human baby for us, to be with us, so that we didn't have to be alone anymore. He searched us out—there is no other world religion that can boast of a god that came to earth specifically to have a personal relationship with them. No one but Jesus. We don't have to work and slave and prove ourselves good enough. All we have to do is believe in Him and turn away from our sin.
The gift of grace, love, relationship, forgiveness, hope and reconciliation is all wrapped up in swaddling clothes, lying in a manger.
Luke  2: 8-12 And there were shepherds living out in the fields nearby, keeping watch over their flocks at night. 9 An angel of the Lord appeared to them, and the glory of the Lord shone around them, and they were terrified. 10 But the angel said to them, "Do not be afraid. I bring you good news that will cause great joy for all the people. 11 Today in the town of David a Savior has been born to you; he is the Messiah, the Lord. 12 This will be a sign to you: You will find a baby wrapped in cloths and lying in a manger."
John 8:12 When Jesus spoke again to the people, he said, "I am the light of the world. Whoever follows me will never walk in darkness, but will have the light of life."
To read the full Christmas story, please click here Luke Chapter 2