2 Corinthians 12: 9-10 But he (Jesus) said to me, "My grace is sufficient for you, for my power is made perfect in weakness." Therefore I will boast all the more gladly about my weaknesses, so that Christ's power may rest on me. That is why, for Christ's sake, I delight in weaknesses, in insults, in hardships, in persecutions, in difficulties. For when I am weak, then I am strong.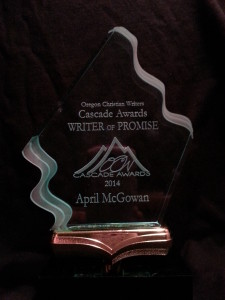 I won an award this week at the Oregon Christian Writers Summer conference. It's an award for being a Writer of Promise. It's actually an award I thought would be very cool to win, but never expected to hear my name associated with it. In fact, I was so surprised to hear my name, all the blood rushed out of my extremities. I have no knowledge of how I got up those stairs and onto that stage. I remember very little about what I said, and only have a vague recollection of sitting down in my seat again. But I did because God enabled me to. In fact, God enables me to do everything I do. He's enabling you, too, but you might not be aware to what extent. I am acutely aware.
Here's what I would have said on that stage if I'd had more time and had my wits better about me. Maybe I said it and don't remember. If you were there, I pray you saw it in my eyes: my complete unworthiness, my gratefulness, and my boast in the Lord:
I can do nothing without God. Really. I am chronically ill with a rare disease that leaves my body "fighting" germs 24/7. I get up every day with body aches and a fuzzy head, not walking straight, not sure of what I can take on. I'm exhausted because of the fight. Have you had the flu? Yeah, like that–pretty much all the time. At this week's conference, I was heading back to my room every four hours for breathing treatments. I planned my classes, my meetings, around these treatments, around rests, around plenty of downtime. I almost didn't make it to OCW, let alone the dinner and awards ceremony, because I'd been so sick. My medical treatment for my condition is done on Tuesday evenings, and 98 percent of Wednesdays, I'm down all day. I'm certainly not dressed up, on my feet, attending classes and going to late night galas. I shouldn't have been at the dinner. In fact, I was due for a breathing treatment RIGHT in the middle of the awards ceremony. I was going to have to leave. But my lungs didn't spasm with an asthma flare, so I stayed. And that's when I got the most amazing surprise of my career (outside of my first book contract).
As I heard the kudos for the last award of the night, I prepared to clap for whoever it was. Then, I suddenly realized (via some clues) that the presenter, Lindy Jacobs, was talking about me!  Although we were in a room of several hundred people, right then, it was just me and the Father. Because all I do, all I accomplish, all I write, all my steps are from Him. Literally. He carried me up those steps, He got me back to my seat. He got me through photos and lots of lovely hugs, and then back up that long hallway to my room where I cried and stayed awake in awe and humility into the wee hours. He stayed up with me, too. People often ask me why I write about my illness on my blog, why I share so openly when asked. THIS is why. I want you to see it's not me, it's Him. I want you to see how He loves us. I want you to see how involved He is in every aspect of our lives. He is my strength, my portion, my motivation. My all in all. And I'm so grateful.
Read More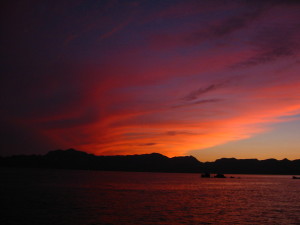 I haven't blogged for several weeks now. We've been going through some insurance changes that put me off my medication schedule and I started to feel pretty lousy—I don't know about you, but I have serious problems writing when I feel lousy! Thankfully, my supplies showed up two weeks ago. Even so, it put me and my immunobuddies off schedule and invited bronchitis to stay a while. Don't worry though–this blog post is germ free!
I was pretty amazed at the fast turn around this time in getting my medication approved so quickly. Maybe for two reasons. Usually, these things can take quite a while. The other had to do with prayer–but maybe not the one you'd expect me to make. I prayed that if this medication wasn't necessary (read I can get by without my immunobuddies) that the Lord wouldn't let me get approved at all. This has to do in part with the huge burden they put on us financially. And…truly…it's still not an enjoyable treatment.
Well, I got approved in 2 days this time. Unheard of. I think I knew all along I needed them (see paragraph one)–but I wasn't sure how God would provide for us to pay for them this year. And He surprised us with an answer to that, too. I can't share details, but I was amazed.
Do you ever feel like you really need one prayer answered? Not just for the answered prayer–but because you need a faith boost? I know that the Lord hears my prayers–His word says He does and I believe it. But, sometimes they take a long time to be answered, or are answered in such a way I don't see them. Well, that's where I was. I needed a boost to my faith. He sent one just in time.
If you'd like, I'd love to hear about ways God has intervened on your behalf during trials—and left you completely amazed. Leave me a comment?
Jeremiah 32:17 Ah, Sovereign Lord, you have made the heavens and the earth by your great power and outstretched arm. Nothing is too hard for you. (full text here)
Read More