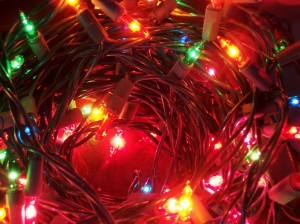 My heart is so saddened by the past few days. We've had shootings at our Clackamas mall, then our local pet store caught fire (nearly all the pets were lost), and now the shootings in Connecticut follow that up. I'm left feeling empty and sad. There are hundreds if not thousands in mourning this week—a week we're supposed to be preparing for Christmas and enjoying family traditions.
Seeing the flags flying at half-mast in town was a dampening reminder today. And while I drove around with my family, doing some last minute shopping and buying a much needed pair of boots for my daughter, I was struck by how life still moves on despite the loss. However, the twinkling lights, merry music and usual hope of the season is contrasted by loss. Deep, heart wrenching loss. It brings us back to where we lay our hope. Is our hope here on this Earth, or does it lay in the hands of our Savior?
I'm struck by the stories of unselfish love emerging out of the tragedy. From the people in the mall who stayed with the injured, even as they lay dying, to the teachers who risked (and lost) their lives protecting their students. And while some shout, "Where was God?" or claim He turned a blind eye because the schools have quit teaching about Christianity, I say He was right there in the midst of it. Because, where there is sacrificial love, there is the Son, and where the Son is, there is the Father.
So when I drive around this year, looking at the Christmas lights, I'm going to be remembering the sacrifice and loss of many—but especially the sacrifice of the One, who came to cast light into the darkness, to draw us unto Himself in our grief, to save us from our iniquities. Emmanuel—God with us. He promises never to leave us nor forsake those who belong to Him, no matter what evil plays out here in this world.
John 8:12 When Jesus spoke again to the people, he said, "I am the light of the world. Whoever follows me will never walk in darkness, but will have the light of life." 
Deuteronomy 31:6 Be strong and courageous. Do not be afraid or terrified because of them, for the Lord your God goes with you; he will never leave you nor forsake you.
Read More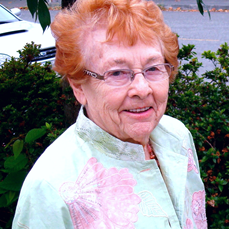 The past few years have been a struggle for my family health-wise. I've shared as much on my blog. This has made it hard for us to take vacations. But a couple months back, we planned one down to northern California, to see a good portion of our family—one of those being my Granny who, at the age of 96, was declining in health.
Unfortunately, we didn't get there in time, but were able to attend her memorial. And while I love to write and do pretty well with my fingers on the keyboard, I'm not much of a speaker. I mean, I do fine—but it's hard for me to talk in front of people, and especially difficult during such an emotional time. So, I waited until now.
I've been very blessed to have a number of grandparents in my life. I have four parents (due to remarriage), and were able to know most of their parents, and even a couple of their grandmother's.
Both Granny, and her mother, Grandma Lind, were instrumental in my life. My mother and I moved to northern California when I was ten. To say I was lonely is a huge understatement. It was just a few short months later that my mother met and married my step-father. And thus, I was thrust into a new family with grandparents and a brother and sister (who were out of the house by my arrival), aunts and uncles and cousins. I felt very uneasy, and didn't know what to expect.
Both Granny and Grandma Lind took me right into the family. If there were any doubts they had about me, I never knew it. As soon as my parents said, "I do" I was a grandkid and that was that. I can't tell you what it meant to me to be accepted so quickly.
Granny was expert in making just about anyone feel at home, and I did. So much so, that one time, when she was babysitting me, I noticed that the clock on the piano was an hour off (Daylight savings time had come and gone). So, I fixed it. She had a funny look on her face when I told her how I'd taken care of it for her. I had no idea that a professional needed to set that clock…that expensive mantle clock. But, after explaining it to me, it was never mentioned again. I discovered later it had been quite expensive to repair. I kept a clear path between that clock and me from then on.
She loved music, and during a period of time when I was taking piano lessons, let me come over and practice at her house. I'm sure she must have gotten pretty tired of hearing me play the same pieces over and over again (I use the word play loosely)—but she just smiled and encouraged me. I never really mastered it, I wish I had.
Granny loved clowns and had a collection of figurines and pictures. One Halloween, I was about thirteen, I decided to be a clown for trick-o-treating. My friends and I canvassed the whole town (it felt like) and I needed to use the bathroom. We were nearby Granny's house, so I knocked on the door. She answered and gave me a candy. I asked, "Can I use the bathroom?" Well, I'd never seen an incredulous look on her face before, but sure gave me one. When I stepped inside, she kindly asked me to leave, took me firmly by the arm and escorted me out, shutting and locking the door, flipping off the porch light. To say I was shocked didn't begin to explain my feelings. My grandmother had just tossed me from the house! As I was standing in the dark, wondering what happened, I realized she had no idea who I was. So, I started knocking again. After a minute, she flipped on the porch light, opened the door a crack and told me to go away in a very stern voice. Had I been the miscreant she took me for, I'm sure I would have turned tail and ran. Instead I said, "But, Granny, it's me, it's April!" She was just as relieved as I was. I apparently made a very convincing clown.
Years later, when I got engaged, she lovingly sat my fiancé and I down and asked what our plans were (we were pretty young). She was matter-of-fact, yet kind. And over the twenty plus years we've been married, unendingly supportive.
People at her memorial talked about her classy appearance (always dressed to the nines); her love of travel (was even asked by a native New Guinea man to be one of his wives); her love of sporty cars; how she walked in her faith every day of her life, reaching out to strangers and making them feel like a friend. She so did. But, for me, I'll always remember how she looked at this lonely ten-year-old girl and took her as one of her own—no questions asked—and loved her. Thanks, Granny.
Read More