In my last post, I wrote how excited I was to have my books with me at the writer's conference. They were going to be on the tables for sale, and I would take part in the autograph party. Golden. It was going to be so very cool. I mean, can't you just see it?  I sure could.
Well, the best-laid plans…
Despite my publisher's great effort (it was considerable!) and many, many prayers, my books didn't show up on time. In fact, oh the irony, they arrived on my doorstep the very hour the conference ended. I know this, because my husband texted me when they showed up. Yep.
I was heartbroken. I mean—hadn't I been planning this for a year? I had everything ready (pens, price stickers, bookmarks) and yet, no books. Do you ever feel like no matter what you do, it just doesn't pan out? There's no golden moment, there isn't even fool's gold in your pan—just mud.
That's where I was. Mud. Murky, depressed, bleh. Feeling pretty sorry for myself. I forged ahead and arrived emotionally exhausted at the conference. What was the point? I didn't have my books! But, I prayed (and many friends prayed) that the Lord would make something out of this, that my attitude would change, and boy, did it ever.
During the conference, I got this message over and over, from just about every one of the speakers. Seriously. But, none said it quite as succinctly as Liz Curtis Higgs: God knows when the timing is just right for Him to get all the glory.
He can handle my book order. I mean, haven't I trusted Him with harder issues than that? He is God. And if things didn't work out according to my plans, it was because He had a different one. I'm not sure of all the lessons I learned, but here's the biggest one: I had to have my plans tumbled just so I'd hear what I needed to (which also, was considerable) from all the speakers. I even got the courage to share about my novel with someone, and quite frankly, I wouldn't have done so otherwise.
Do you ever feel like God's out to thwart your plans? Have you taken time to consider His plans might be even better than the one you've imagined?
Isaiah 55: 8-9 "For my thoughts are not your thoughts, neither are your ways my ways," declares the Lord. "As the heavens are higher than the earth, so are my ways higher than your ways and my thoughts than your thoughts." (Full text here).
Read More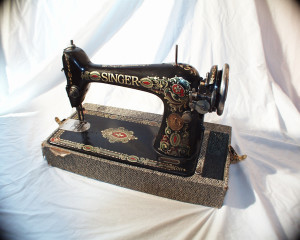 Do you ever find it's hard to live up to someone else's expectations? Although you may be embarrassed to admit it, you just can't quite measure up?
My daughter has been in more than a couple events that required costumes. As the mom, the 'stay-at-home homeschooling mom' no less, it's assumed as rolls are handed out, that I can sew. To which I always find myself in a bit of a conundrum.
I come from a long line of seamstresses. My grandmothers sewed, one of them quite expertly. My Mom1 sews pretty well. My Mom2 was a professional seamstress (and still is, but now she only does it for 'fun'). All of these wonderful women tried to teach me to sew. My Mom2 even gave me a brilliant sewing machine to use. They were all patient, and caring and encouraging in their instruction.
And yet…
The other day my daughter went through my sewing kit and found a bag inside. "What's this?" She held up a sack and proceeded to dump the contents out. I knew what was inside—I didn't need to watch.
"A baby bib," I responded rather quietly—trying not to look at my failure.
"For who?" She held up the tiny circular bib with teddy bears on it, edging hanging askew.
"You." Keep in mind, my daughter is fifteen.
You've got that right, I can't sew. Well, I take that back, I can sew rectangular things-like tablecloths and curtains and pillow cases. But, as for the aforementioned circular bib-no. Doll clothes? Nuh-uh. Dresses? Let's not go there.
Sometimes it's hard to admit you're beat. At other times though, I'd love to wear a sweatshirt that says, "Yep, I'm a mom who isn't crafty and who doesn't sew!" just to get startled looks from people. Because, really, I do get them. (I would naturally have to BUY the sweatshirt).
As I'm maturing, though, I'm learning that it's okay not to be able to do everything. God made me for a particular purpose, with gifts and talents and it doesn't mean I have to live up to other people's expectations of me—just His. That sure takes off a lot of pressure when I remember that.
As I put the half-sewn bib carefully back into the sack (with about three others I had cut out) she wondered why I didn't just give it away. I shrugged, but in the back of my mind, there was that nagging voice saying I might be able to finish them in time for grandchildren one day in the far future. Well, you never know…
Read More