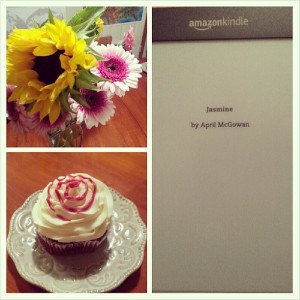 Saturday was an amazing day. Actually, it started Friday evening. I got home to discover that Jasmine was LIVE digitally, out there on Amazon (don't worry, it's becoming available on other formats as the week goes on-I'll keep you posted). What an incredible feeling. I"ve been doing guest blog posts here and there, marketing and sharing and suddenly, there she was. I downloaded it to my Kindle right away. As soon as I flipped to the title page, I started to cry. I'd realized my dream of being published.
I've been so focused on guest blog posts and lining up marketing, so focused on the date on the calendar, that when my husband suggested we do a little something to celebrate, I couldn't fathom it. Being the loving, wise, man he is–he completely ignored my protests and picked up some delicious gluten free cupcakes from Piece Of Cake (if you haven't eaten their wares, you MUST) and a bouquet of beautiful flowers. At the top, you can see a cute collage photo of our celebration my daughter made.
I'm like a proud new mama–there she is, isn't she pretty?
Have you ever realized a dream–or are you still waiting for one? I'd love to hear your stories.
And thanks for all your support in making this one happen for me.
Read More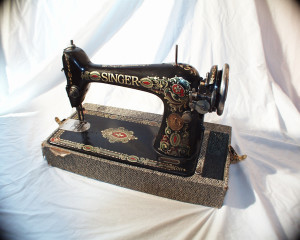 Do you ever find it's hard to live up to someone else's expectations? Although you may be embarrassed to admit it, you just can't quite measure up?
My daughter has been in more than a couple events that required costumes. As the mom, the 'stay-at-home homeschooling mom' no less, it's assumed as rolls are handed out, that I can sew. To which I always find myself in a bit of a conundrum.
I come from a long line of seamstresses. My grandmothers sewed, one of them quite expertly. My Mom1 sews pretty well. My Mom2 was a professional seamstress (and still is, but now she only does it for 'fun'). All of these wonderful women tried to teach me to sew. My Mom2 even gave me a brilliant sewing machine to use. They were all patient, and caring and encouraging in their instruction.
And yet…
The other day my daughter went through my sewing kit and found a bag inside. "What's this?" She held up a sack and proceeded to dump the contents out. I knew what was inside—I didn't need to watch.
"A baby bib," I responded rather quietly—trying not to look at my failure.
"For who?" She held up the tiny circular bib with teddy bears on it, edging hanging askew.
"You." Keep in mind, my daughter is fifteen.
You've got that right, I can't sew. Well, I take that back, I can sew rectangular things-like tablecloths and curtains and pillow cases. But, as for the aforementioned circular bib-no. Doll clothes? Nuh-uh. Dresses? Let's not go there.
Sometimes it's hard to admit you're beat. At other times though, I'd love to wear a sweatshirt that says, "Yep, I'm a mom who isn't crafty and who doesn't sew!" just to get startled looks from people. Because, really, I do get them. (I would naturally have to BUY the sweatshirt).
As I'm maturing, though, I'm learning that it's okay not to be able to do everything. God made me for a particular purpose, with gifts and talents and it doesn't mean I have to live up to other people's expectations of me—just His. That sure takes off a lot of pressure when I remember that.
As I put the half-sewn bib carefully back into the sack (with about three others I had cut out) she wondered why I didn't just give it away. I shrugged, but in the back of my mind, there was that nagging voice saying I might be able to finish them in time for grandchildren one day in the far future. Well, you never know…
Read More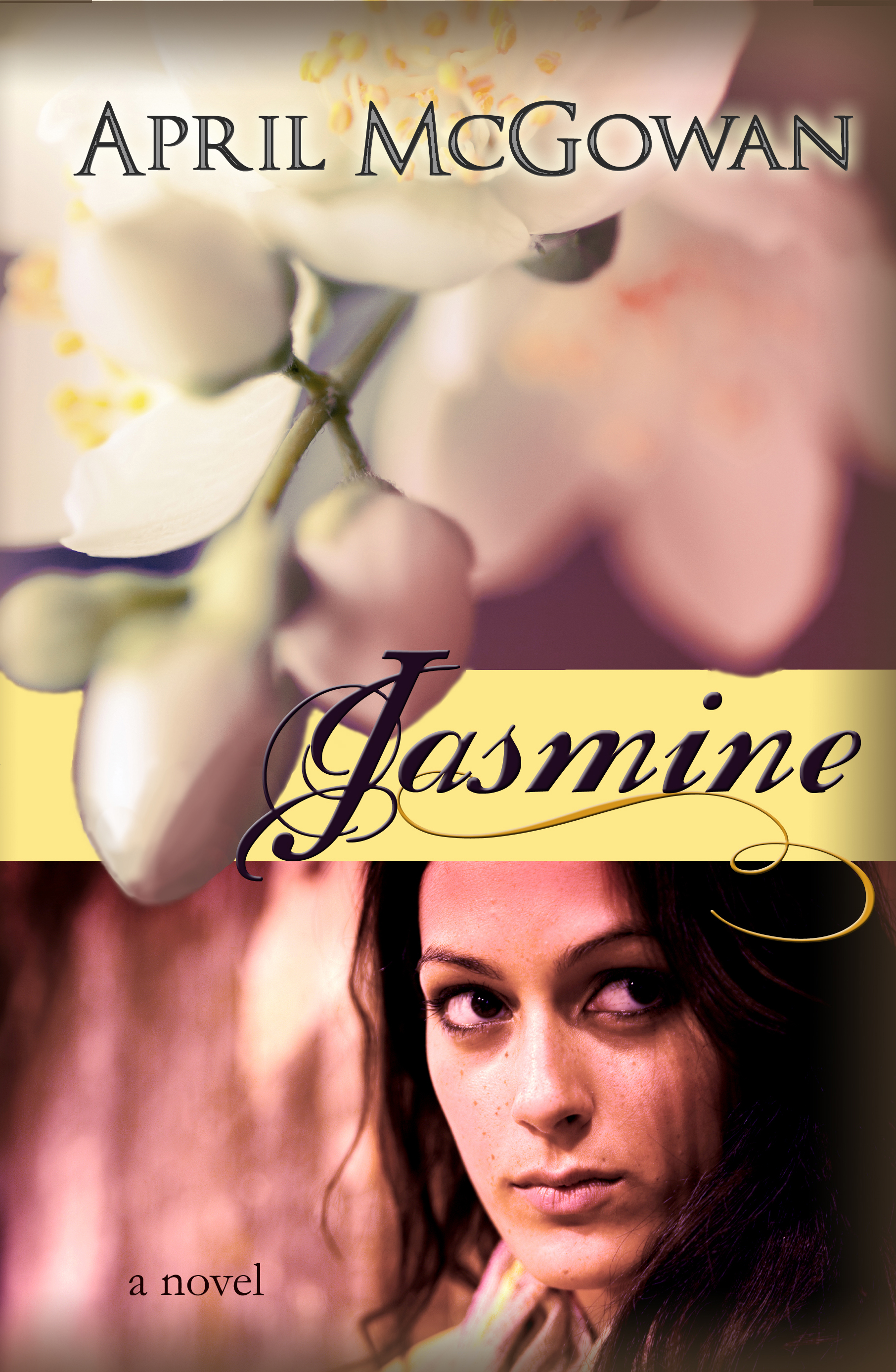 I've been dreaming, hoping, praying about getting a publishing contract for a long time. A long, long time. So, about two weeks ago I got the email every writer hopes to get, the one that said, "Good news! We're going to publish your book." (Although, it was probably more articulate than that).
After re-reading the email about five times, it sunk in. I proceeded to try and tell everyone I could think of—by the way, those of you that weren't home…where were you??!! And then, it really sunk in. All my hard work, all my hopes and dreams were going to be out there for everyone to see. You might guess what follows: fear. Will I be able to keep up, will my health hold, what about all those unknowns?
Now, I know I'm not alone in this. I immediately went and panicked to my new author group and they reassured me they knew exactly what I felt like. My editor was very supportive (cool…my editor), and other writer friends were encouraging. All those things helped. But, it wasn't until I turned to the One who planted the seed of this dream in my heart all those years ago that my fears subsided. I won't say disappeared, because self-doubt looms over my shoulder (it's rather black and fuzzy with green eyes..no wait, that's my cat). But, when that self-doubt arises, I'm doing my best to remember the dream weaver, the original Author of life, has it all in hand.
I'd love to hear if you've ever had a dream come true—and what you did with those nagging doubts!
Ephesians 3:20-21 Now to him who is able to do immeasurably more than all we ask or imagine, according to his power that is at work within us,  to him be glory in the church and in Christ Jesus throughout all generations, for ever and ever! Amen. (Full text here.)
Read More