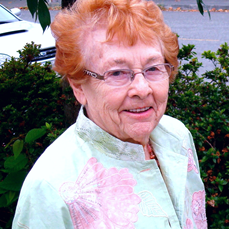 The past few years have been a struggle for my family health-wise. I've shared as much on my blog. This has made it hard for us to take vacations. But a couple months back, we planned one down to northern California, to see a good portion of our family—one of those being my Granny who, at the age of 96, was declining in health.
Unfortunately, we didn't get there in time, but were able to attend her memorial. And while I love to write and do pretty well with my fingers on the keyboard, I'm not much of a speaker. I mean, I do fine—but it's hard for me to talk in front of people, and especially difficult during such an emotional time. So, I waited until now.
I've been very blessed to have a number of grandparents in my life. I have four parents (due to remarriage), and were able to know most of their parents, and even a couple of their grandmother's.
Both Granny, and her mother, Grandma Lind, were instrumental in my life. My mother and I moved to northern California when I was ten. To say I was lonely is a huge understatement. It was just a few short months later that my mother met and married my step-father. And thus, I was thrust into a new family with grandparents and a brother and sister (who were out of the house by my arrival), aunts and uncles and cousins. I felt very uneasy, and didn't know what to expect.
Both Granny and Grandma Lind took me right into the family. If there were any doubts they had about me, I never knew it. As soon as my parents said, "I do" I was a grandkid and that was that. I can't tell you what it meant to me to be accepted so quickly.
Granny was expert in making just about anyone feel at home, and I did. So much so, that one time, when she was babysitting me, I noticed that the clock on the piano was an hour off (Daylight savings time had come and gone). So, I fixed it. She had a funny look on her face when I told her how I'd taken care of it for her. I had no idea that a professional needed to set that clock…that expensive mantle clock. But, after explaining it to me, it was never mentioned again. I discovered later it had been quite expensive to repair. I kept a clear path between that clock and me from then on.
She loved music, and during a period of time when I was taking piano lessons, let me come over and practice at her house. I'm sure she must have gotten pretty tired of hearing me play the same pieces over and over again (I use the word play loosely)—but she just smiled and encouraged me. I never really mastered it, I wish I had.
Granny loved clowns and had a collection of figurines and pictures. One Halloween, I was about thirteen, I decided to be a clown for trick-o-treating. My friends and I canvassed the whole town (it felt like) and I needed to use the bathroom. We were nearby Granny's house, so I knocked on the door. She answered and gave me a candy. I asked, "Can I use the bathroom?" Well, I'd never seen an incredulous look on her face before, but sure gave me one. When I stepped inside, she kindly asked me to leave, took me firmly by the arm and escorted me out, shutting and locking the door, flipping off the porch light. To say I was shocked didn't begin to explain my feelings. My grandmother had just tossed me from the house! As I was standing in the dark, wondering what happened, I realized she had no idea who I was. So, I started knocking again. After a minute, she flipped on the porch light, opened the door a crack and told me to go away in a very stern voice. Had I been the miscreant she took me for, I'm sure I would have turned tail and ran. Instead I said, "But, Granny, it's me, it's April!" She was just as relieved as I was. I apparently made a very convincing clown.
Years later, when I got engaged, she lovingly sat my fiancé and I down and asked what our plans were (we were pretty young). She was matter-of-fact, yet kind. And over the twenty plus years we've been married, unendingly supportive.
People at her memorial talked about her classy appearance (always dressed to the nines); her love of travel (was even asked by a native New Guinea man to be one of his wives); her love of sporty cars; how she walked in her faith every day of her life, reaching out to strangers and making them feel like a friend. She so did. But, for me, I'll always remember how she looked at this lonely ten-year-old girl and took her as one of her own—no questions asked—and loved her. Thanks, Granny.
Read More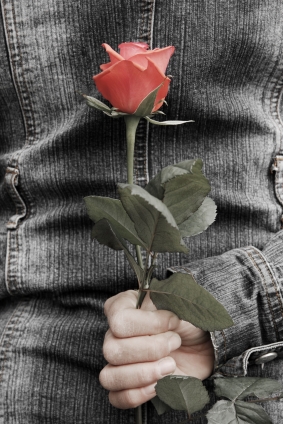 Happy Valentine's Day. Now, I know that the validity of this day is often called into question by naysayers who claim the greeting card industry started it all—but if you do a bit of research, you'll find it was first founded by a pope to honor Christian martyrs. Then, in the 15th century it turned into a day to honor loved ones via gifts of candy and notes. And THEN the greeting card companies got into the game. So, people get all worked up about how it has to do with marketing and…well…it probably has a lot to do with it. After all, candy sales go up, and so do flower sales. But, it's also a good excuse to tell loved ones how much they mean to us.
When I was in high school, my school sold roses on Valentine's day to make money for programs. And every year I hoped to get one from someone—but I never did. A couple times during the day, rose deliveries would be made in the classrooms, and I'd hold my breath, thinking maybe some unnamed admirer would confess their crush through a rose. Throughout the day, you could see clearly who was 'loved' by the rose placed prominently on their desk, carried proudly to each class. For me, though, it was not to be.
What I did not know at the time was that one day I'd marry a man who gave me flowers throughout the year. A man who would make personal sacrifices for me time and again. Who would do anything to protect and provide for me and our two kids. Who would stand by me in trial, pray for me during illness, and rejoice with me in blessings.
And as wonderful as I think my husband is (and you may think your significant other is), there's One who loves us better. He set the standard on love—one that we can't possibly meet without Him.
But, maybe you're not feeling so loved or lovely. You're thinking, "What's love got to do with it?" You might even be angry at where you are in life. If you are today like I was once, wishing and hoping to be loved and appreciated, feeling unnoticed—know that you are not only noticed, but fully known. And that sacrificial love has been given to you, a free gift for the taking.
1 John 4: 7-12  Dear friends, let us love one another, for love comes from God. Everyone who loves has been born of God and knows God. Whoever does not love does not know God, because God is love. This is how God showed his love among us: He sent his one and only Son into the world that we might live through him. This is love: not that we loved God, but that he loved us and sent his Son as an atoning sacrifice for our sins. Dear friends, since God so loved us, we also ought to love one another. No one has ever seen God; but if we love one another, God lives in us and his love is made complete in us. (read in context here)
Read More