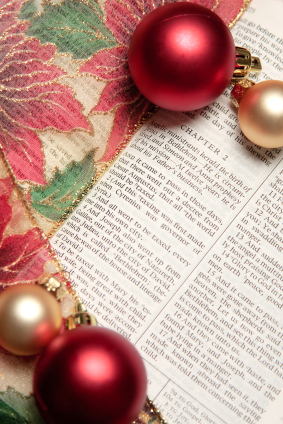 The other day I had an opportunity to share my faith with someone who was confused about Jesus' deity. And, as when anything like that happens, my faith deepened as I went about finding the verses of the Bible to share with him.
As it's Christmas, the time of year when Christians choose to celebrate the birth of their savior, I thought I'd share a bit of what I found for my searching friend. I think the misconceptions of the world often infiltrate our ideas of who Jesus was. I often hear through the media that He was just a good man, or that He never claimed to be God, or that He was a just a prophet. Rather than listening to what others say, I think the best source of information is the fountainhead—the Bible. I've linked all the verses to read in context if you'd like.
The Bible says this about the birth of our Savior some 700 years before He was born:
Isaiah 7:9 Therefore the Lord himself will give youa sign: The virgin will conceive and give birth to a son, andwill call him Immanuel (which means God with us). (Full text here)
Isaiah 9: 6-7 For to us a child is born, to us a son is given, and the government will be on his shoulders. And he will be called Wonderful Counselor, Mighty God, Everlasting Father, Prince of Peace. Of the greatness of his government and peace there will be no end. He will reign on David's throne and over his kingdom, establishing and upholding it with justice and righteousness from that time on and forever. The zeal of the LORD Almighty will accomplish this. (Full text here)
Equally powerful are the statements Jesus makes about Himself:
I AM the bread of life (John 6:35)
I AM the door (John 10:9)
I AM the light of the world (John 8:12)
I AM the good shepherd (John 10:11)
I AM the resurrection and the life (John 11:25)
Before Abraham was born, I AM (John 8:58)
I AM the Alpha and the Omega, the First and the Last, the Beginning and the End (Revelation 22)
Romans 5:6-7 You see, at just the right time, when we were still powerless, Christ died for the ungodly. Very rarely will anyone die for a righteous person, though for a good person someone might possibly dare to die. But God demonstrates his own love for us in this: While we were still sinners, Christ died for us. (Full text here)
I know things are ramping up. There are family pressures, parties to attend, the perfect gifts to find, and a whole world of madness outside of our homes (and sometimes inside). But, I hope you join with me in celebrating our Lord's birth this season, thanking Him for all the things Jesus is to us, and what He's done for us. Mostly, I hope you slow down and spend time with the One, who gave Himself up for us as a willing sacrifice, a gift of love.
Read More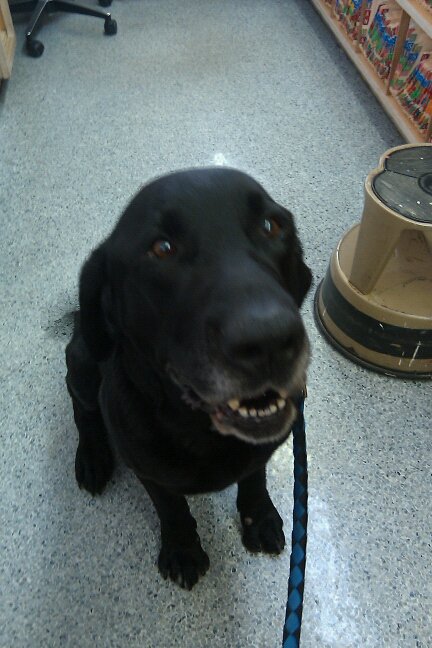 The other day I saw a photo of my sister-in-law's recently rescued dog looking devotedly up into the face of his new owner. In the dog's eyes, I could clearly see devotion and loyalty, but there was also something else: gratefulness. He was grateful to be chosen and rescued from a life of neglect, starvation and probably death.
I've seen the same thing in my rescue cat's golden eyes. His gaze follows me whenever I pass through the room. He waits to see if I'll come and pet him, and often times he'll jump down from wherever he is and rub against my legs. He was near death when we took him in from the cold, and ever since he's looked at me with that same devotion. We've had him five years now, and he still follows me with those attentive eyes wherever I go. I find his devotion sweet…except in the middle of the night when he gets chatty.
It's Easter, and we've been reading about Jesus suffering, burial, and resurrection. It's something we do every year, to remember the final sacrifice for sin to bridge the gap between our sinful selves and God. He paid the price for anyone who asks. I was raised in the church, prayed for forgiveness and accepted Jesus as my savoir at the age of ten. So, I've heard the story countless times. I have to admit, sometimes I take for granted that God is there, and that, because of what Jesus did, I have a direct line to Him.
Seeing the dog's eyes, that look, reminded me that God rescued me from a life separate from Him. That he chose to save us, to save me—He didn't have to. He rescued me from a life without purpose; a life of potential loneliness and helplessness; a life of complete separation from Him, and eventually death.
The photo made me ponder. Do I look to God with the same adoration that my cat gives me? Do I give Him, who is completely worthy, my full attention? I confess—I don't. I get caught up in the trials of my life, and don't appreciate the life bought for me by Jesus' sacrifice. I forget He's there for me, in good times and bad. Truly, He not only deserves my devotion, He desires a relationship with me. That very thought is mind blowing, and life altering.
I hope this Easter you'll take time to remember the sacrifice made for you, and look with wonder and devotion at the Father who, through His Son, and made a way to rescue you.
Romans 5:6-8 You see, at just the right time, when we were still powerless, Christ died for the ungodly. Very rarely will anyone die for a righteous person, though for a good person someone might possibly dare to die. But God demonstrates his own love for us in this: While we were still sinners, Christ died for us. (Read the full text here.)
John 3:16-21  For God so loved the world that he gave his one and only Son, that whoever believes in him shall not perish but have eternal life.  For God did not send his Son into the world to condemn the world, but to save the world through him. Whoever believes in him is not condemned, but whoever does not believe stands condemned already because they have not believed in the name of God's one and only Son. This is the verdict: Light has come into the world, but people loved darkness instead of light because their deeds were evil.  Everyone who does evil hates the light, and will not come into the light for fear that their deeds will be exposed.  But whoever lives by the truth comes into the light, so that it may be seen plainly that what they have done has been done in the sight of God. (Read the full text here.)

Read More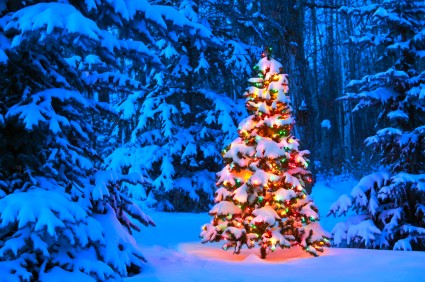 Guess what? It's almost Christmas. And unless you've been living in a cave somewhere, the advertising gurus of the world have been drilling the holidays home into your brain for well over a month now. In fact, I think I saw Halloween and Christmas decorations up at the same time somewhere.
It's easy to get caught up in the mad rush to get it all done. That's one reason we, as a family, try to plan it all out early, so we can enjoy the day to day traditions we love so much about the season. Getting up every morning and turning on the tree and lights. Reading from scripture about the Christmas story. The kids taking turns reading our advent calendar. All along, pointing our family to the real reason for the season—Jesus birth.
I love Christmas carols and all the music playing on the radio—I don't get one bit upset when they start to play it before Thanksgiving, because to me Thanksgiving rather ushers in a whole month of thankfulness that I feel when I remember the gift God gave us in His Son. The lights on the houses and trees serve to remind me that He is the light of the world. And when they play hymns on the radio, I feel blessed that they are playing music to my Lord every day for a full month—all because of His birth. Who else get's a month long birthday celebration?
Now, I'm not naïve enough to think that everyone who celebrates Christmas is Christian, or even knows why we celebrate. I'm reminded of a mom and daughter a few years ago who were looking at boxed Christmas cards next to me. I was struggling to find just the right ones, and the daughter (about 16) held up one to her mother and asked, "What the heck does Im-man-u-el mean anyway?" Her mother shrugged and said it was probably something religious and they tossed the cards aside, moving on before I could speak. That event served to remind me I should always be ready with an answer.
Immanuel. God with us. God came down in the form of a helpless human baby for us, to be with us, so that we didn't have to be alone anymore. He searched us out—there is no other world religion that can boast of a god that came to earth specifically to have a personal relationship with them. No one but Jesus. We don't have to work and slave and prove ourselves good enough. All we have to do is believe in Him and turn away from our sin.
The gift of grace, love, relationship, forgiveness, hope and reconciliation is all wrapped up in swaddling clothes, lying in a manger.
Luke  2: 8-12 And there were shepherds living out in the fields nearby, keeping watch over their flocks at night. 9 An angel of the Lord appeared to them, and the glory of the Lord shone around them, and they were terrified. 10 But the angel said to them, "Do not be afraid. I bring you good news that will cause great joy for all the people. 11 Today in the town of David a Savior has been born to you; he is the Messiah, the Lord. 12 This will be a sign to you: You will find a baby wrapped in cloths and lying in a manger."
John 8:12 When Jesus spoke again to the people, he said, "I am the light of the world. Whoever follows me will never walk in darkness, but will have the light of life."
To read the full Christmas story, please click here Luke Chapter 2
Read More