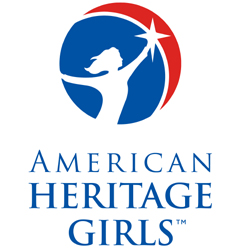 At this time of year there seems to be a huge ramping up of all our obligations.  It's especially true of parents with older children—there's always somewhere to go, or someplace to be.  I have many friends who are reevaluating their schedules for next year now.  My advice is to wait until the fire cools before cutting and running!  For some reason, American Heritage Girls often shows up on that list of obligations, along with other valuable programs.  But, I disagree—I don't think of AHG as an obligation, I think of it as a God given opportunity.
A few years ago, when my daughter was in 2nd grade, I felt she had a lack of good close friends.  She had one or two, but she's a very social girl, and I wanted to give her another opportunity to meet girls of like-minded faith (Christian), and get her plugged into a good program that offered Christ-like values and encouraged service.  That's when we heard about our church sponsoring an American Heritage Girls troop.  I'd never heard of them before, so I did some research.  They not only taught life skills, they focused those skills with Christian guidelines.  I liked that. They taught that family is a God given blessing—not something to try to "do" in-between career choices.  They made service to the community a reality, not just an ideal.  They encouraged the girls to make life long friendships, in a deep and lasting way.  Their oath: "I promise to love God, cherish my family, honor my country and serve in my community," is real and lasting and meaningful.
As I got to know the program better, through our involvement, I noticed too that the leaders weren't committed just for their own daughter's sake, but had a heart concern for the well being of not just the girls, but for each of their families as well.  I noticed that the program isn't only a program, it's a ministry.
By our second year, I'd moved into a leadership position.  Albeit, my personal gifts don't involve teaching children (unless they are my own), but that didn't mean I couldn't help.  I found a position I enjoy—registrar.  It's a good fit for me and my busy schedule, but also helps our troop in a big way several times a year.  Every year I try to encourage others to find their niche at AHG and help, because, again, it's not just a program, it's a ministry.
I've seen my daughter and my family blessed by our involvement with AHG.  When we've gone through trials, other leaders have stood by me and prayed with me.  And I've had the privilege to do that for others well.  Both my daughter and I have made some wonderful friendships there—friendships that will grow and stand the test of time because they are seeded in faith.
While there are other things we CAN commit to throughout the year, we've chosen to stand by our commitment to American Heritage Girls, and say "no" to other opportunities because of the value AHG is to our family, and because we believe in their mission to grow up women of integrity.  In this day and age, when integrity is lacking in every area of our American lives, I find that a true blessing.
Read More