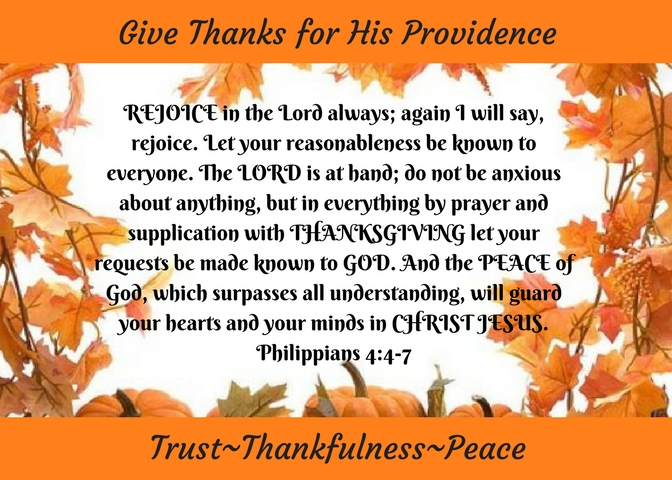 Greetings!
Last Saturday I spoke to the women at Calvary Chapel in McMinnville, Oregon about thankfulness. They were so warm and welcoming. I hope they'll invite me back again one day. If you are looking for a home church in that area, definitely consider spending a Sunday morning there.
In a nutshell, I shared that our trust in the Father and any subsequent peace is all rooted in our thankfulness to Him. Through our thankfulness in His daily provision in spiritual matters, hardships, and joys, we are opening up lines of communication with God and deepening our relationship with Him– and seeing his provision, shows us He is trustworthy in all things. And through that trust, we know, because God is in control, we can have peace in all circumstances–just like Paul (see Philippians 4). This takes discipline, but the rewards are eternal!
Sometimes when we are in the thick of conflict or tribulation, it's hard to count our blessings. But Paul gives us a good list to start with:
Finally, brothers, whatever is true, whatever is honorable, whatever is just, whatever is pure, whatever is lovely, whatever is commendable, if there is any excellence, if there is anything worthy of praise, think about these things. What you have learned and received and heard and seen in me—practice these things, and the God of peace will be with you. (Phil 4:8-9)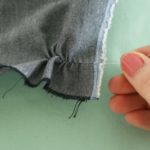 When we become mindful of God's provision, even in one thing, we will begin to see another and another, like a thread being pulled through fabric, bringing it all together.
I pray your Thanksgiving celebration, be it large or small, is full of peace and thankfulness of heart, a time where you can number and see the blessings and great provision the Lord has for you.
In other news:
Book sale/Signing at Christmas Bazaar
I'll be at the Hillsboro Chruch of the Nazarene (click here for address) on November 18th from 9 A.M until 3 P.M for their Christmas Bazaar. I'll be meeting with readers, selling, and signing books. The organizer assures me there will be goodies and crafts and all manner of good things! I would love to see you there!
Until next time!
May the Lord bless you and Keep you!
Read More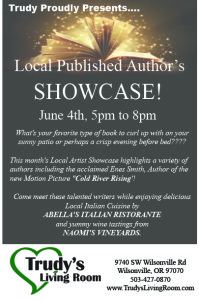 Greetings. Just a short post to let you know I'll be at Trudy's Living Room home furnishings in Wilsonville to take part in their Thursday Author Spot light and art walk doing a book signing. I hope you'll stop by and visit with me. Click here for the directions to the event: MAP
I'll have copies of Jasmine and Macy for sale–but even if you've already read them, I hope you'll stop by and chat. I love attending these events and visiting with you!
In other news, I've gotten several messages asking when my next book will be out. My agent is in process of contacting publishers, so please pray about that with us. I trust there is just the right place for To Hold The Light. I love this story so much. I can't wait for you to read it!
Don't forget to come visit me on Thursday.
Many blessings,
April
Read More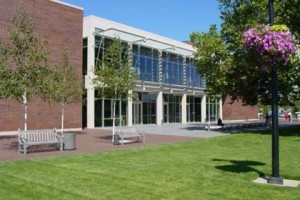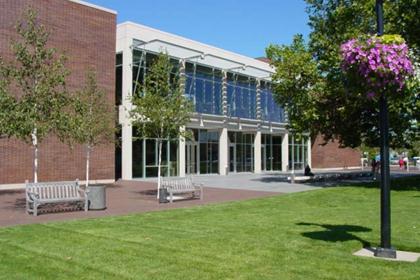 On Saturday April 25th, from 10 A.M to 1 P.M  I'll be signing and selling copies of my novels at the Beaverton Library Author Fair, along with a few other author buddies (and authors I hope will soon be friends). I'm really looking forward to it. This is the Beaverton Library's first author fair ever–so it's exciting to have been included! I hope you'll stop by. Here's the address:
Beaverton Library, 12375 S.W. Fifth Street, Beaverton, OR 97005.
I've been putting the finishing polishes on To Hold the Light. I'm so excited about this new book. I'll keep you posted on its publishing journey! If you want an idea of what the book is about, check my Pinterest page HERE. You can listen to inspiring songs and watch incredible videos-and see pics of what Mocha looks like (Amber's cat–you have to have a cat!). Here's the back cover info.
To Hold the Light by April McGowan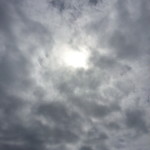 Amber had all she ever wanted. A great job teaching art to gifted children, an adorable apartment, a best friend whom she could turn to for anything, and a guy who might just be the one. But when Amber gets the distressing news that she's going blind, her world is upended and she's left in a darkening spiral with no visible escape.
Now, facing blindness and the possibility of losing everything she's come to hold dear, she doesn't understand where God is in all this devastation. Her birth mother had abandoned her when she was only a toddler. Then she faced the crushing experience of her adoptive dad passing away in her teen years. Her adoptive mom was supportive, but she threw herself into her work and didn't have time to coddle Amber as she grieved. Trusting others wasn't Amber's strong suit, but somewhere down deep she'd always thought God had her best in mind. Now she wasn't so sure. Hadn't He been the one to give her the gift of painting? Now He was taking that away. How did letting her go blind bring Him any glory at all?
So, what do you think? Let me know below. Oh, and let me know if I'll get to see you at the fair.
Until next time, many blessings,
April
Read More