WINNERS!!!
Congratulations to Vicki W, Nicole S, and Amanda T!
Out of over 680 entries, YOU were chosen winners of my local contest by random draw. I've emailed you and let you know as well! The other Scavenger Hunt winners are in process of being announced on Roseanna White's blog.
I'll repost them here when they are announced! Thanks again to everyone who participated. It was such fun!
Read More
Happy December! If you're like me, December, although full of excitement and expectation, can be equally full of over-commitment and weariness. Just in time for the season, my friend Danika Cooley has teamed up with the Proverbial Homemaker to do a huge giveaway of books, adult coloring books, and essential oils. My novels Macy and Jasmine are part of that giveaway!
Be sure to pop over there for their Mom's Relaxation Kit Giveaway and enter to win! Click HERE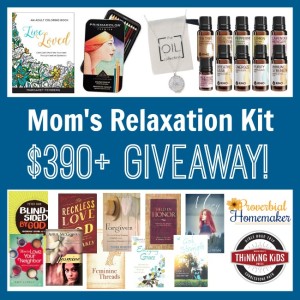 Christmas time can be a hectic season, can't it? There's much to do, and so many little people to bless. My friends know sometimes that means moms go without. They want to honor a mom this Christmas with a fun giveaway.
You won't believe the wonderful package of relaxation gifts they have assembled for their winner. Be sure to check out each special element–you may even find a little Christmas gift here to bless another hard working mama!
Are you having trouble getting into the holiday spirit? I've found that with my illness, that can be tricky. In fact, this year, I'm feeling rather lackluster. Normally I'd have Christmas lights up and music blaring–but this year it feels like lots of effort! I think that's because I'm coming off of a months long infection. All my energies are taken up with that! However, yesterday I came home to my children having set up the tree. So, even though it's not decorated yet, there's a white-lights-blazing reminder in my living room of what will come.
The lovely thing about Christmas, though, isn't just what will come–it is who has already come. Amidst the "Jesus is the Reason" posts on social media we all start looking past, there is this singular truth that even the most skeptical of studious historians believe: He did come. As a Christian, I also believe He is here (in form of the Holy Spirit) and He will bodily return one day. So while I might not be excited for presents and decor, I AM excited about that. I'm always excited about that, actually!
So, what are some things that get you in the mood for the holidays? Leave me comments below! And don't forget to go enter that amazing giveaway!

Read More
Today I have the pleasure of introducing you to my friend and fellow WhiteFire Publishing author, Susie Finkbeiner. Susie's second novel, My Mother's Chamomile, just released to rave reviews. I've recently started reading it–and it's riveting. You're going to want to read it, too. Be sure to leave a comment or question for Susie–and we'll be doing a book drawing for a copy of the ebook version of My Mother's Chamomile a week from today–YOU COULD WIN IT!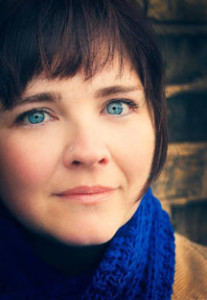 Welcome Susie! Would you share what inspired you to start writing?  My grandma gave me this little journal when I was in third grade. It was powder blue with little teddy bears all over it. I still have it somewhere. If I think back, that was the beginning of my writing. I wrote stories about my friends. Drew pictures of us sipping tea. Made up stories about horses that could talk. Really, it was a way for me to escape a little. I loved it. I've been making up stories ever since. Recently, though, I haven't written any talking horses into my stories.
How long did it take you before you were first published? Oh, goodness. Years. Years and years. I was twenty-eight when a play I'd written was published. When I started work on my first novel, what would become Paint Chips, I had no idea that I'd ever submit it. From the first word typed to the day Paint Chips released, it was just about three years. Maybe even more.
Do you write fiction, nonfiction, or both?  I typically stick with fiction. It feels much more natural for me. Quite honestly, it's safe. For most of my life, fiction has been my defense mechanism. It's worked for me pretty well thus far.
Where do you get your ideas?  Everywhere. I see someone quirky at the grocery store and follow them around, listening to the way they speak, studying the way they walk. Don't worry, I'm smooth about it. Usually, at least. I watch documentaries. Those are absolutely bursting with possibilities. Oh! And church! Church is a fabulous place for inspiration to hit me.
How much research, if any, do you do when writing a book?  It really depends on the book and subject matter. For My Mother's Chamomile, I had to contact funeral directors for interviews and a tour of the funeral home. I read books and watched, probably ten to fifteen documentaries. I interviewed family and friends about their experiences. I committed hours upon hours to learning as much as I could about the funeral business and end of life matters. I'm so glad I took the time.
Do you use an outline, or do you prefer to write by the seat of your pants?  The more I write, the more I value my notes. I wouldn't consider myself an outliner. I'm far too disorganized and rebellious for that. I do, however, have a list of things that will happen in the story. After the first draft, I take scissors and tape and turn the thing into a patchwork quilt. It's messy and emotional, but it works for me.
Where do you write?  Wherever I can find a place to set my laptop. In my house, I sit at my desk in the kitchen. Afternoons when my boys are in school, I go to a coffee shop. Really, though, I can get the work done anywhere.
What are your hobbies/interests (other than writing)?  I love music. I'm not necessarily the best at piano or guitar, but I sure love playing and singing. It's relaxing. It gets creative juices flowing. I'm also an avid reader. It's one addiction I'm not likely to fight off.
Do you consider yourself to be an introvert or an extrovert, and how do you think that effects your writing?  You know, I think I'm a little of both. Strange, right? I love getting to know people and I really enjoy being in front of an audience. However, I truly cherish my quiet time. I can be with people to a certain extent, but then I really need to be alone to recharge. I think it does effect my writing in that I can handle the quiet, focused time it takes to put together stories. My outgoing side makes it easy for me to connect with others who can help me research. I guess sometimes it really is good to be a little in the middle.
Tell us a bit about your latest book. What was your inspiration?  My Mother's Chamomile is a novel about a family of funeral directors. They have poured out comfort and mercy on just about every one in their small town. But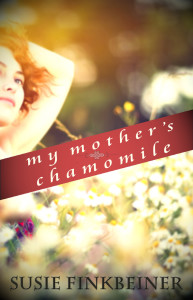 when tragedy strikes their family, they need to accept mercy from others. The inspiration for this book came from my experience with my husband's grandma, being with her when she died. Seeing the wonderful Hospice nurses and kind funeral directors inspired me. I wanted to write their story because, really, it's everyone's story.
What project can we look forward to seeing next?  I'm actually pretty secretive about current projects. I like to keep them undercover until I know for sure where they're going. I will tell you this, it's very different from my other two novels. I really love it so far!
Is there a subject you've longed to write about, but haven't had the chance?  I have this novel that I started several years ago, after the earthquake in Haiti. It's the story of different people who survived and what brought them all together. I've got a good portion of it finished, but I'm not a good enough writer to finish it yet. I need to learn more about the craft to really give it its due.
Where can your readers go to connect with you online?  My web page at www.susiefinkbeiner.com my blog at  www.susiefinkbeiner.wordpress.com, I'm on Twitter @SusieFinkbeiner and Facebook  Susie M. Finkbeiner ~ Novelist
Where can readers go to find your latest release? They can hop on over to Amazon http://www.amazon.com/My-Mothers-Chamomile-Susie-Finkbeiner-ebook/dp/B00IC8E530/ref=zg_bsnr_7588886011_1
Thanks so much for spending time with us here today! And readers, don't forget to ask Susie a question or leave a comment below to enter the drawing! You could win a ebook copy of Susie's latest book!
Read More