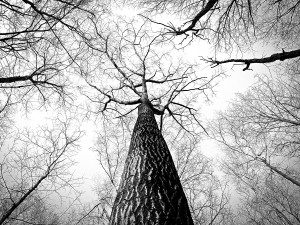 While growing up I thought once I was in my forties (or old, as I considered it) that I'd have life all figured out. Okay, quit chuckling at me, that's not nice. Anyway… as I was saying…life all figured out. Easy sailing on smooth seas. (Seriously?…Stop laughing!)
God's word doesn't promise smooth sailing, through. It does promise He will never leave us nor forsake us. I've begun to wonder if that verse has a double meaning. In His not leaving us, He's also not leaving us to our own devices, or leaving us unchanged. Rather, once we accept Jesus as our savior, we are being made over.
We're like trees standing in a grove, growing, waiting, watching the seasons pass, one to the next. The summer, the fall, the winter… But rather suddenly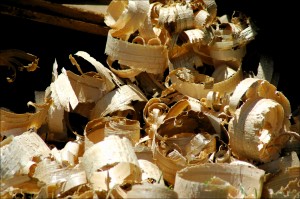 and often without warning, trials come. We are cut down. Our limbs trimmed with each challenge, each hardship, each prayer for mercy until our bark is stripped and we are laid bare and tossed away seemingly forgotten in a stack. It's tempting to despair in that wood pile. There seems no point. If we are walking alone in our faith, it can be devastating. But never fear, the Father is busy not leaving us to our own. He's making us over, chipping away at us, for our own good and His ultimate Glory, making us into something useful. We have to be careful though, because the temptation to focus on the shavings pooling around our feet instead of the Master Carpenter is great.
Some of us (me included) will race to the store for wood glue and desperately try to stick those useless shavings back on, or put them in a box to save for later. In our memories, those shavings can become so important we forget that the Lord isn't interested in them, but He's got a better plan in mind. It's not until we brush the shavings off and step away, looking at ourselves through His eyes we are able to see a new, useful creation. The old has been chipped away.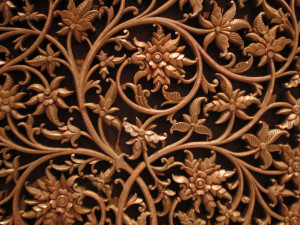 Are you stuck in winter? Are you being chipped away at? Do not fear, nor despair–spring is coming. It's nearly here.
2 Corinthians 5:17 Therefore, if anyone is in Christ, he is a new creation.The old has passed away; behold, the new has come.
Read More
Some time back I interviewed Dina after reading her novel Dance from Deep Within (click here to read the interview again). Today, I'm excited to invite Dina as a guest poster to share about her new release, a young adult series called Valiant Hearts. I'm just starting Dauntless now, and it's excellent. Please give a warm welcome to author Dina Sleiman:
From Bethany House Publishers
Katniss Everdeen and Tris Prior, prepare to meet your historical counterparts!
 Hello and thanks for having me today. I would like to share with you about my YA inspirational medieval adventure/romance series. Yeah, that's a lot of adjectives. LOL. This series is pretty unique, especially in the Christian market, and so requires quite a bit of description. But let me start by sharing a little of how it came about. A few summers ago I saw a picture of a female knight, strong and courageous, bold and valiant, and I realized that somewhere in my many years of marriage and raising children, I had lost my fight.
And you know what? I wanted it back!
Meanwhile, I had been considering trying my hand at a young adult medieval romance series for several years, but I didn't have a strong idea. Quite a few more months would pass before everything came together for me. I was walking and praying about a series concept, when the BBC's new Robin Hood came to mind with its bold Maid Marian who is a crusader for the poor in her own right, its female Djaq, and its tough villainesses. That's when it hit me. Put strong, young medieval women in legendary male roles, et voila, my Valiant Hearts Series was born.
I'm so thankful for this opportunity to create strong and courageous role models for young women. I feel that all too often Christian girls are sent mixed messages. "You can be whatever you want to be, but you should be…" (insert small box of your denominational choosing here.) I want to inspire young women to be all that they can be and empower them to reach their full potential in Christ.
"What is a Valiant Heart heroine?" you might ask. A young woman who is both feminine and strong, vulnerable and tough, gentle and passionate. She is fearless, intelligent, and full of life. A heroine who contains within her both the tender beauty of a blossoming flower and the fierceness of a lioness. One who uniquely reflects her creator God and is willing to pursue her dreams with all her heart. A woman who is open to love, but not defined by a man.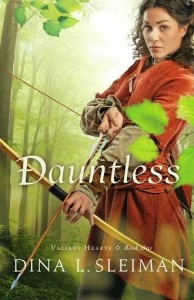 Each book in the Valiant Hearts Series will feature a strong, young medieval woman in a traditionally male role as she lives out a story of adventure, romance, and faith. The series is geared toward teens, but will appeal to adults as well.
Shown above is Merry Ellison, my heroine for the Robin Hood inspired Dauntless. Merry will go to any length to save the outlawed children of Ellsworth from the treacherous King John. Dauntless is available now online, as an ebook, and in local bookstores. Click HERE for more information.
In book 2, Chivalrous, Gwendolyn Barnes longs to be a knight, but such cannot be her fate, even in the Camelot inspired region where she dwells. Meanwhile, her father intends to use her as a marriage pawn. In this story that flips the Lancelot/Guinevere legend on its head, Gwendolyn struggles with issues of gender and worth as well as her faith in God. Chivalrous is available for pre-order online and will release in September. Click HERE for more info and to preorder.
My heroine Rosalind for book 3 (working title Relentless) has a role in book 2 as well. I'm picturing Katie McGrath from the series Merlin. She serves as Gwendolyn's handmaid in book 2, but in book 3 she will face her own adventure as she goes on crusade in search of redemption. I just started writing this one, and it will be fun to see where this story takes me.
And I have ideas for more: pirates, body guards, spies, even a quest!
I hope you will consider giving my Valiant Hearts Series a try, or perhaps purchasing it for some special young woman in your life! And please join me on my Valiant Hearts blog to stay in touch. http://valiantheartsseries.blogspot.com/
~~~~~~~~~~~~~~~~~~~~~~~~~~
Dina Sleiman writes stories of passion and grace. Most of the time you will find this Virginia Beach resident reading, biking, dancing, or hanging out with her husband and three children, preferably at the oceanfront. Since finishing her Professional Writing MA in 1994, she has enjoyed many opportunities to teach literature, writing, and the arts. Her debut novel, Dance of the Dandelion with Whitefire Publishing, won an Honorable Mention in the 2012 Selah Awards. Also look for her novels, Love in Three-Quarter Time, Dance from Deep Within, and her Valiant Hearts series with Bethany House Publishers. Dina serves as an acquisitions editor for WhiteFire Publishing as well, and she loves to teach at writers conferences throughout the US.
Read More