Another Brand New Year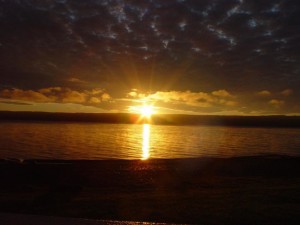 We're wrapping up the old year and bringing in another brand new year. Goodbye 2014. You were a challenge to me. I had some of my greatest writing achievements (a second book published, up for some awards, won an honorary award) this year. I also faced a long bout of multiple illnesses–it was a very hard spring and summer.
People I'm close to faced some pretty unimaginable trials last year–many are carrying on into the new year. I'd like to say tomorrow is a brand new day with no problems in it–that it really is altogether new and spotless, that being a new year carried some guarantees of wellness and will be trouble free. But I can't. This new year will have high points and low for everyone I know. But I take comfort we can face anything if we're trusting in the Lord.
In my prayer time recently, I began to feel uneasy. Some of the things I've been praying for a very long time. Was I praying right? Did I have the right words, the right faith, the right posture? Was my heart right, my intentions good enough? At that point I was reminded that I could never pray right enough to convince God of anything. You see, I'm imperfect. I sometimes have selfish motives. I can't see the big picture like God does (who planned our Lord's birth over thousands of years down to the last detail). I don't know if removing a trial from a loved one's life will, in the end, be a detriment instead of what God intended using it for (drawing them closer to Him usually figures in that equation). In fact, when it came down to it, I didn't know anything at all. Well, except one thing–these circumstances I prayed for, they all needed God's hand of strength, of peace, of patience, of healing. The details were not up to me, they were up to Him.
Jesus said to pray. I pray. Jesus said to ask for whatever I need in His name. I do. He also prayed the night before his arrest and conviction: "Not my will but Yours be done. *
That removes a lot of pressure, doesn't it? At the end of us and our ideas of how things should be, it's enough to pray, "Not my will but Yours be done." I know I can pray that with all confidence because I trust Him. I know His attributes: He is the God of love, of mercy, of strength, of peace, of comfort, of provision.
Trust comes in every relationship as intimacy deepens. You share, they share; you listen, they listen; you're there for them, and they are there for you.
Do you trust in the One who hears our prayers? If you've never given your life to Jesus, if you've never admitted your sin and need of Him and asked Him into your heart, then that first step of intimacy is missing from your life. You'll never learn to trust Him if you've never met Him. Relationship with Him begins with that simple prayer.
But then it goes on. It has to or you'll never get to know Him the way He'd like you to. Think of it this way: It'd be as if I met you on the street, we had an amazing bonding experience, and then you never spoke to me again.
I pray this new year will be full of blessings, but especially full of intimacy with our Lord. I pray for Him to work out His full, perfect will in your life.
* Verses used Luke 22:42 John 15:7 Luke 11