I'll Be Seeing You MUST-SEE contest alert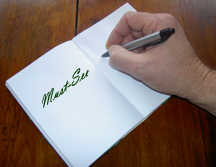 Last week I released my very first Newsletter. If you want to be on the Newsletter list, just look to your right on my blog and scroll to the spot on the page where it says "Get The Newsletter" and do so! I email them out just four times a year. This time, those folks got the first opportunity to enter a new contest–one that might land their idea in a novel. Don't worry, you've got a chance, too!
In my next novel, my main character, Amber, loses her sight to a disease. Before she does, she creates a sort of bucket list–I'm calling it her MUST-SEE list. I've got a list of things she wants to see for the last time–but I'd love to use your ideas, too! SO: If you were going to lose your sight, what's one thing you'd want to see before time ran out?
Post your MUST-SEE place or thing below in the comments and I might use your idea in my novel. Everyone who posts an idea will be mentioned in the back of my novel (along with a complied MUST-SEE list) and I'll also enter your name in a contest for a $20.00 Amazon gift card! You can send multiple ideas (please!), but there is only one entry for the gift card per person. DEADLINE is December 31st, 2015. Enter NOW!
a Rafflecopter giveaway