Stairway to Heaven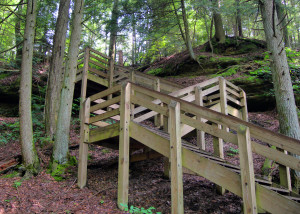 Everyone has seasons in their lives of joy and hardship. Sometimes the hard ones feel like they go on forever, though. We've gone through many years of health hardships. They don't seem to stop, but continue to ramp. You can take a break from activities, you can take a vacation from your job—but you can't get away from your health.
Imagine with me a staircase.
The stairs take you up. The first few get your blood pumping, the next set start taking a bit more effort and you breathe harder. You keep on going, looking toward the end, but now your breath comes in gasps and pants. You have to stop and grip the rail, but there's no place to sit down. Sweat trickles down your back, so you take off your coat, and keep climbing, because there's no going back—there's just up. If you have a disability, you might be pulling yourself along by that rail, one shaky foot, one sweaty palm, at a time.
On a real staircase, there are landings. If you're climbing at a park, there might even be a well-placed bench for you to take a breather, a respite, a time of recovery—a drink of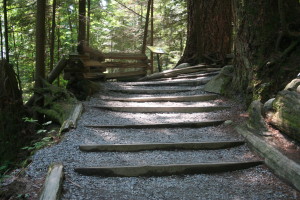 cool water. It might be pokey, and uneven, but it's a bench, and you're grateful for it. After you catch your breath, you continue on, and then the path, or the stairwell, turns a corner. You're still tired, but not as tired as you were. You had a break. The best thing is, you know soon there will be another landing, another place to take a break—or you'll have reached the top.
But, what if there are no landings?
What if those stairs just keep climbing? You crane your neck, squint your eyes and all you see are more and more stairs. That's where we're at. These past few weeks, I've been praying for a landing.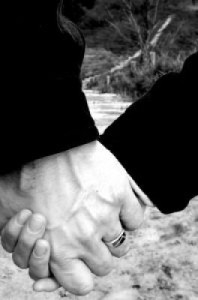 Maybe you're with me on those stairs, climbing relentlessly, praying for a break. Maybe it will help you to know you're not alone. I'm here, too. We can hold each other's hands as we go, pull each other up over that next step, urge each other along. Pray for one another. Jesus is there with us, He's got your hand and mine.
Let me know if I can pray for you. You can message me privately on this page, or leave a comment below. Either way, I'll see you on the stairs.
Psalm 73: 23-26 Yet I am always with you; you hold me by my right hand.You guide me with your counsel, and afterward you will take me into glory. Whom have I in heaven but you? And earth has nothing I desire besides you. My flesh and my heart may fail, but God is the strength of my heart and my portion forever. (full passage here)
John 10:25-30 Jesus answered, "I did tell you, but you do not believe. The works I do in my Father's name testify about me, but you do not believe because you are not my sheep. My sheep listen to my voice; I know them, and they follow me. I give them eternal life, and they shall never perish; no one will snatch them out of my hand. My Father, who has given them to me, is greater than all; no one can snatch them out of my Father's hand. I and the Father are one." (full passage here)
Philippians 4: 6 Do not be anxious about anything, but in every situation, by prayer and petition, with thanksgiving, present your requests to God. And the peace of God, which transcends all understanding, will guard your hearts and your minds in Christ Jesus. (full passage here)