Today I have the pleasure of introducing you to my friend and fellow WhiteFire Publishing author, Susie Finkbeiner. Susie's second novel, My Mother's Chamomile, just released to rave reviews. I've recently started reading it–and it's riveting. You're going to want to read it, too. Be sure to leave a comment or question for Susie–and we'll be doing a book drawing for a copy of the ebook version of My Mother's Chamomile a week from today–YOU COULD WIN IT!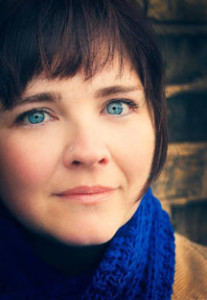 Welcome Susie! Would you share what inspired you to start writing?  My grandma gave me this little journal when I was in third grade. It was powder blue with little teddy bears all over it. I still have it somewhere. If I think back, that was the beginning of my writing. I wrote stories about my friends. Drew pictures of us sipping tea. Made up stories about horses that could talk. Really, it was a way for me to escape a little. I loved it. I've been making up stories ever since. Recently, though, I haven't written any talking horses into my stories.
How long did it take you before you were first published? Oh, goodness. Years. Years and years. I was twenty-eight when a play I'd written was published. When I started work on my first novel, what would become Paint Chips, I had no idea that I'd ever submit it. From the first word typed to the day Paint Chips released, it was just about three years. Maybe even more.
Do you write fiction, nonfiction, or both?  I typically stick with fiction. It feels much more natural for me. Quite honestly, it's safe. For most of my life, fiction has been my defense mechanism. It's worked for me pretty well thus far.
Where do you get your ideas?  Everywhere. I see someone quirky at the grocery store and follow them around, listening to the way they speak, studying the way they walk. Don't worry, I'm smooth about it. Usually, at least. I watch documentaries. Those are absolutely bursting with possibilities. Oh! And church! Church is a fabulous place for inspiration to hit me.
How much research, if any, do you do when writing a book?  It really depends on the book and subject matter. For My Mother's Chamomile, I had to contact funeral directors for interviews and a tour of the funeral home. I read books and watched, probably ten to fifteen documentaries. I interviewed family and friends about their experiences. I committed hours upon hours to learning as much as I could about the funeral business and end of life matters. I'm so glad I took the time.
Do you use an outline, or do you prefer to write by the seat of your pants?  The more I write, the more I value my notes. I wouldn't consider myself an outliner. I'm far too disorganized and rebellious for that. I do, however, have a list of things that will happen in the story. After the first draft, I take scissors and tape and turn the thing into a patchwork quilt. It's messy and emotional, but it works for me.
Where do you write?  Wherever I can find a place to set my laptop. In my house, I sit at my desk in the kitchen. Afternoons when my boys are in school, I go to a coffee shop. Really, though, I can get the work done anywhere.
What are your hobbies/interests (other than writing)?  I love music. I'm not necessarily the best at piano or guitar, but I sure love playing and singing. It's relaxing. It gets creative juices flowing. I'm also an avid reader. It's one addiction I'm not likely to fight off.
Do you consider yourself to be an introvert or an extrovert, and how do you think that effects your writing?  You know, I think I'm a little of both. Strange, right? I love getting to know people and I really enjoy being in front of an audience. However, I truly cherish my quiet time. I can be with people to a certain extent, but then I really need to be alone to recharge. I think it does effect my writing in that I can handle the quiet, focused time it takes to put together stories. My outgoing side makes it easy for me to connect with others who can help me research. I guess sometimes it really is good to be a little in the middle.
Tell us a bit about your latest book. What was your inspiration?  My Mother's Chamomile is a novel about a family of funeral directors. They have poured out comfort and mercy on just about every one in their small town. But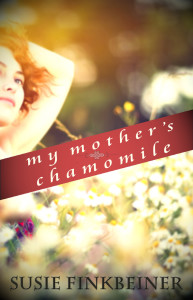 when tragedy strikes their family, they need to accept mercy from others. The inspiration for this book came from my experience with my husband's grandma, being with her when she died. Seeing the wonderful Hospice nurses and kind funeral directors inspired me. I wanted to write their story because, really, it's everyone's story.
What project can we look forward to seeing next?  I'm actually pretty secretive about current projects. I like to keep them undercover until I know for sure where they're going. I will tell you this, it's very different from my other two novels. I really love it so far!
Is there a subject you've longed to write about, but haven't had the chance?  I have this novel that I started several years ago, after the earthquake in Haiti. It's the story of different people who survived and what brought them all together. I've got a good portion of it finished, but I'm not a good enough writer to finish it yet. I need to learn more about the craft to really give it its due.
Where can your readers go to connect with you online?  My web page at www.susiefinkbeiner.com my blog at  www.susiefinkbeiner.wordpress.com, I'm on Twitter @SusieFinkbeiner and Facebook  Susie M. Finkbeiner ~ Novelist
Where can readers go to find your latest release? They can hop on over to Amazon http://www.amazon.com/My-Mothers-Chamomile-Susie-Finkbeiner-ebook/dp/B00IC8E530/ref=zg_bsnr_7588886011_1
Thanks so much for spending time with us here today! And readers, don't forget to ask Susie a question or leave a comment below to enter the drawing! You could win a ebook copy of Susie's latest book!
Read More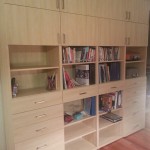 What have you been up to lately? We've been very busy. Let's see, where to begin? I got the manuscript of my latest novel, Macy, turned in to my publisher, and spent the following days celebrating my daughter's 16th and my son's 11th birthdays…and worked on our M.E.P (our marriage enrichment project read IKEA shelving unit—see lovely photo on your left).
How hard can that be, you ask? Seriously, IKEA has great instructions, and it's pretty simple…on paper. Except, did you know you have to drill the drawer front handles yourself? Yeah. That was fun, getting them all lined up (just be glad you weren't here). Thankfully, my husband came equipped with a math function of which I am sorely lacking. Five, er…six…er…eight ruined drawer fronts later, there you have it! Flawless! Mostly.
It's beautiful, and it's something we've wanted to do for years and years. All our homeschool stuff is (soon to be) organized into ONE place (I know, right??!). "Mom, where's the ____?" My "In any one of four places," answer has changed to "Right there!" Well, it will be as soon as I get everything moved. But then—perfection!
Yes, I know, I attain perfection every time I reorganize that towel closet and perfection is stolen from me in days. I know eleven-year-old habits will be hard to break. Quit raining your well-balanced logic on my parade.
Our M.E.P went really well, considering I had to deal with letting go some more—which wasn't much fun off and on. I have gone from a capable gal who could unpack most of the house after a move in a couple days to our M.E.P taking three weeks. I had a day of hating that. Much improved over what could have been three weeks of hating that. She's growing, she's accepting. (Still stinks though…grumble…grumble).
Your mind is still on all those wasted drawer fronts, isn't it? Don't worry, we'll do something creative for our new kitty with them (I will tell you about him next time). Wait, you're not worried about that? You just want to know how we could have ruined eight of them?
Sometimes you have this plan that looks great all sketched out, even measures out perfectly, but it just fails. The drill bit was bent and we didn't know it. The hole for the right side was off just a tiny bit, so the template was off all those times. Lastly, plain and simple, the drill slipped in my grasp (drills are heavier to me now than they used to be).
Sometimes you just have to roll with it. And know when to walk away and let your spouse work out their geometry skills. Knowing when to walk away can be harder than you think. I'm a hang-on-with-my-teeth girl. After I walked away (mentally and physically), my patience for the whole project grew. I used to like drilling—not so much anymore. Gladly, my husband has a knack for it and finished up the fronts and doors like a pro.
Letting go can be very freeing. To be honest, I haven't noticed the tools, the boxes on the front steps, the unfinished part all that much since I 'walked away.' That is not me. Actually, it's the new me. The project got done, and I didn't stress about it. Chalk up one successful M.E.P!
Have you had a fun or exasperating M.E.P? Leave me a message about it below!
Read More