Listen: Who We Are In Christ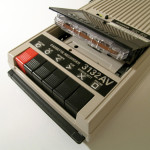 Last week I was honored to give the talk at my church's women's luncheon entitled Who We Are In Christ. I had many people tell me they were sorry they couldn't come, and others ask if I could send them a copy. I thought about posting the text of my speech here on my blog, but speeches don't read the same as they sound. As a result, I got to thinking about doing a recording for my blog. My sweet husband helped me record it and below is the result. You can listen online through my blog (just hit play) or you can download it. It's just about twelve minutes long.
Now, this was primarily written to women, but my husband feels that it translates well to men, too. However, I didn't change it to that end. So, if you are male, please don't think I forgot about you:) You just weren't the FIRST intended audience.
If you've ever been disappointed in life, if you've ever had to let go of a dream or the vision you had of yourself, then take a few minutes out of your day to listen.
After you listen, leave a comment and let me know what you think. Thanks!

If you'd like to save this to your computer, right click on the link below and select 'Save As…"
Biblical texts mentioned in my talk:
Colossians 2: 9-12
9 For in Christ all the fullness of the Deity lives in bodily form, 10 and in Christ you have been brought to fullness. He is the head over every power and authority. 11 In him you were also circumcised with a circumcision not performed by human hands. Your whole self ruled by the flesh was put off when you were circumcised by Christ, 12 having been buried with him in baptism, in which you were also raised with him through your faith in the working of God, who raised him from the dead.
2 Corinthians 12:9-10
 But he said to me, "My grace is sufficient for you, for my power is made perfect in weakness." Therefore I will boast all the more gladly about my weaknesses, so that Christ's power may rest on me. 10 That is why, for Christ's sake, I delight in weaknesses, in insults, in hardships, in persecutions, in difficulties. For when I am weak, then I am strong.
John 15:5-8
"I am the vine; you are the branches. If you remain in me and I in you, you will bear much fruit; apart from me you can do nothing. 6 If you do not remain in me, you are like a branch that is thrown away and withers; such branches are picked up, thrown into the fire and burned. 7 If you remain in me and my words remain in you, ask whatever you wish, and it will be done for you. 8 This is to my Father's glory, that you bear much fruit, showing yourselves to be my disciples.