The Book I Read: The Journey of Eleven Moons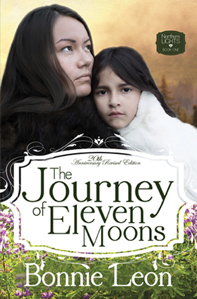 I've just finished a lovely book called The Journey of Eleven Moons by best-selling author, Bonnie Leon. This is a revised version of the novel she had published in 1995. Although I'm a huge fan of Bonnie's novels, I've never read this series, so I can't compare it to the original or any changes that were made—but from chapter one, I was immediately drawn into the story.
Bonnie Leon gracefully weaves a tale of realistic, deep characters who experience real-life tragedies and triumphs, all the while staying true to a culture and time that transports the reader. We are introduced to a group of the Aleut peoples in Alaska, the harshness and beauty of their surroundings, their traditions, and spiritual life set around the end of the 19th century.
Horrible tragedy leaves Anna and her youngest sister orphaned and destitute. The relationship formed between the two moves from sibling to parental in a natural way, allowing us to identify with the character on a deeper level—Anna has to move beyond her grief for her sister's sake, and try to build their lives again. When Anna meets Erik, a Civil War veteran, she's instantly distrustful of the tall foreigner—with good reason. But Erik proves to be a true friend in their time of great need.
The beauty of the Alaskan wilderness and its native people (as well as the occasional ugliness of foreigners looking for quick wealth) are shared in a truthful, unbiased way. Bonnie portrays the Aleut culture in a respectful, but honest light. She does an equally skillful job interweaving the message of the gospel with a subtly that shows us what it was like for Anna to go from her multi-theistic belief system to learning about the One True God.
All in all, the realism of emotion and setting pulls the reader through the story to a very satisfying conclusion. I highly recommend this book and gave it five stars.
You can find The Journey of Eleven Moons in your local bookstore, or pop over to Amazon and order it here.