Shine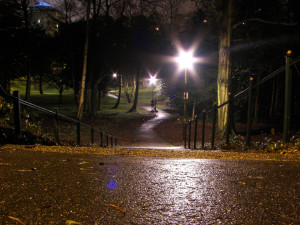 As I drove home in an information-overloaded stupor from a recent conference, I got to thinking about the advice my writing coach gave on going deeper into character and into the scene. She suggested listening to music from the time period you're writing about, themed for romance, danger, introspection or whatever your scene is about. We should make a soundtrack for our novel. We should also cut out photos, put up quotes, have detailed information on what we think the character thinks, feels, sees, smells. She suggested writing about a time we experienced something similar to what the character had, just so we'd identify even more with where they were in the story.
Those thoughts tumbled around in my head a bit, and I remembered the Bible verse that tells us to put on the full armor of God. Really, there are any number of verses that tell us to be Christ-like. Here are a couple:
Ephesians 4:22-24 You were taught, with regard to your former way of life, to put off your old self, which is being corrupted by its deceitful desires; to be made new in the attitude of your minds; and to put on the new self, created to be like God in true righteousness and holiness.
1 John 2:5-6 But if anyone obeys his word, love for God is truly made complete in them. This is how we know we are in him: Whoever claims to live in him must live as Jesus did. 
It was a light bulb moment for me. How do I stay in character, so to speak, with Jesus? Not just in affectation, but deeply and permanently changed. In effect, are special soundtracks, a few biblical quotes around my house, and some scenic photos enough to make me like Christ? Or does it take more, something deeper? And how much more invested should I be to become more like Jesus?
I suggest I should do everything to be like Him. Christians are supposed to be a light in the darkness for others, a shining reflection of Jesus. I can't be like Him if I don't know Him—and I can't know Him if I don't spend time with Him.
I did something stupid a couple months ago. I was tired, exhausted from my medication and from being sick for weeks on end. Someone posted something online that I felt justified in answering. Note: if you feel justified in saying something, you probably should just keep on walking. I was wrong. I should have scrolled away. Instead, I allowed myself to be drawn into an argument that ended badly. But, it got me to thinking. If I'd been pulling on Christ daily, delving into the Word, staying in prayer, would I have had that knee-jerk reaction?
Putting on the full armor of God isn't just about the spiritual and sometimes physical battle, it's about the likeness, the character of Jesus. If I'm immersed in Him, the barbs that come my way will be less likely to find purchase in my life.
Ephesians 6:10-17. Finally, be strong in the Lord and in his mighty power. Put on the full armor of God, so that you can take your stand against the devil's schemes. For our struggle is not against flesh and blood, but against the rulers, against the authorities, against the powers of this dark world and against the spiritual forces of evil in the heavenly realms.Therefore put on the full armor of God, so that when the day of evil comes, you may be able to stand your ground, and after you have done everything, to stand. Stand firm then, with the belt of truth buckled around your waist, with the breastplate of righteousness in place, and with your feet fitted with the readiness that comes from the gospel of peace. In addition to all this, take up the shield of faith, with which you can extinguish all the flaming arrows of the evil one. Take the helmet of salvation and the sword of the Spirit, which is the word of God.