In my last post, I wrote how excited I was to have my books with me at the writer's conference. They were going to be on the tables for sale, and I would take part in the autograph party. Golden. It was going to be so very cool. I mean, can't you just see it?  I sure could.
Well, the best-laid plans…
Despite my publisher's great effort (it was considerable!) and many, many prayers, my books didn't show up on time. In fact, oh the irony, they arrived on my doorstep the very hour the conference ended. I know this, because my husband texted me when they showed up. Yep.
I was heartbroken. I mean—hadn't I been planning this for a year? I had everything ready (pens, price stickers, bookmarks) and yet, no books. Do you ever feel like no matter what you do, it just doesn't pan out? There's no golden moment, there isn't even fool's gold in your pan—just mud.
That's where I was. Mud. Murky, depressed, bleh. Feeling pretty sorry for myself. I forged ahead and arrived emotionally exhausted at the conference. What was the point? I didn't have my books! But, I prayed (and many friends prayed) that the Lord would make something out of this, that my attitude would change, and boy, did it ever.
During the conference, I got this message over and over, from just about every one of the speakers. Seriously. But, none said it quite as succinctly as Liz Curtis Higgs: God knows when the timing is just right for Him to get all the glory.
He can handle my book order. I mean, haven't I trusted Him with harder issues than that? He is God. And if things didn't work out according to my plans, it was because He had a different one. I'm not sure of all the lessons I learned, but here's the biggest one: I had to have my plans tumbled just so I'd hear what I needed to (which also, was considerable) from all the speakers. I even got the courage to share about my novel with someone, and quite frankly, I wouldn't have done so otherwise.
Do you ever feel like God's out to thwart your plans? Have you taken time to consider His plans might be even better than the one you've imagined?
Isaiah 55: 8-9 "For my thoughts are not your thoughts, neither are your ways my ways," declares the Lord. "As the heavens are higher than the earth, so are my ways higher than your ways and my thoughts than your thoughts." (Full text here).
Read More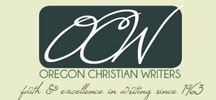 I'm sitting at my desk with a pot of tea planning for next week. The 12th to be exact. I'm heading off again to the Oregon Christian Writers summer conference. If you're an aspiring author, or love writing and just don't know how to channel  your passions better, take my advice: go to a writing conference. Where else in the world can you meet people that live in their heads like you do? That imagine deaths, births, marriages of fictional people and cry over them like you do? No one thinks you're strange there!
Not only that, but there are classes to help you improve, meal times to increase your network, people to mentor, and chance encounters (or in my world, God-directed encounters) with other writers who will make you better, build you up, pray for you (if you attend Christian events) and be there when you're experiencing personal doubts and crisis (read free counseling).
This year will be a bit different for me. This year I get to take my books with me. My wonderful editor Roseanna at WhiteFire Publishing has worked doubly hard to send me a box of advanced copies to take and put in the book store at the conference. If you've never been, this is a room set aside for all the published authors to share their wares. And this year, I get to, too. (Can you hear the yippee?).
I remember my first conference, some seven years ago, and walking into that room and seeing everyone's novels and non-fiction books. From historical to how-to, they're all there, many by authors I'd read  and several new ones. At the time, I was the librarian for my church, so I had a field day buying up local authors (Oregon seems to be a fertile land for Christian authors) and then taking them home with me for the library. I did that for many years, in fact. Such fun!
FYI the bookstore will be open for an autograph party on August 14th at the Jantzen Beach Red Lion from 4:45-5:45 if you want to drop by!
I'll be posting about the conference on my Twitter feed and to my Facebook page. I'll try to take photos and be diligent!
Meanwhile, could you do me a favor? If you've had a chance to read Jasmine in e-book or were one of the lucky few that pre-ordered the paperback and got it early (by Amazon error earlier this week!), would you stop by the Amazon site (or your favorite online retailer) and leave a review? I'd really appreciate it! It helps more than you know.
Read More