This Land Is Your Land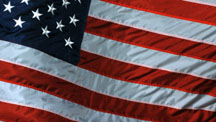 Happy (nearly) 4th of July! I'm feeling very introspective today. Do you ever have those days when memories  just kind of hang around you like a cozy cloak?
When I was a kid, I'd spend the summers with my dad1 and mom2 in Idaho. Most of the time, July 4th would come as part of that visit. We'd often go into town (a 45 min drive or so-my folks lived in the sticks…er…country) and watch the parade. Floats would all reflect local businesses and this one guy with about a hundred Corvettes in his collection would have them all driven through town. Okay, I'm exaggerating, but it seemed like a hundred! Then we'd go home for our meal and company. My mom2 would make all kinds of yummy food, she'd set out all the 4th decorations and we'd usually have friends over. In the evening, though, we'd drive into town once again, park near a baseball field and lay out blankets for the show. If felt like the whole countryside turned out. There was this all-inclusive feel. We'd see people we knew, we'd visit for a while. I remember heat and mugginess. And killer mosquitoes.  As the night fell, and the sky darkened, people would tune their radios to the same channel and patriotic music would play as the pyrotechnician (read crazy folks who may or may not have been professionally trained) set off fireworks.
The part that most sticks in my memory, though, is the bonus show. More often than not, God would show up for the fireworks. Or, at least, that's what it felt like to me. The clouds would roll in, and off in the distance, we start to see another kind of show. One of lightening, and as it got closer, booming thunder. Bright lights would flash against the silhouetted backdrop of the surrounding mountains like a ginormous flashlight being flicked on and off in rapid succession. It would grow closer, but not dangerously so *usually*. It was just enough to create drama, excitement, and cool the air down a bit. The techs would light off the finale and we'd scream and cheer. Sometimes the rain would come–or hail, and we'd all drive home. On the years when the storm was missing, I always felt a bit cheated. And lonely.
I'm reminded that Romans 1:20 says "For since the creation of the world God's invisible qualities–his eternal power and divine nature–have been clearly seen, being understood from what has been made, so that people are without excuse."
What special things did your family do for the 4th? Or for my international readers, your national holiday celebration? I'd love it if you'd share a memory below. I hope you feel the Lord closely this celebration, thanking Him for the freedoms we have, and praying He'll continue to hold us all tightly in His mighty hands as He continues to reveal Himself to us.