Tuesday Afternoon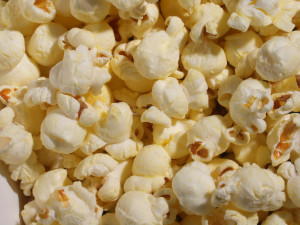 Last night my son came in the living room and said, "I love Tuesdays because we get to watch something fun and we always have popcorn." He looked so happy. And that really struck me, because up until about five months ago, Tuesdays were not fun. Tuesdays are the day I do my infusion treatment for my CVID.
I've blogged a couple times on how my attitudes have changed since I started treatment for my CVID. I wrote in a previous post how I started thinking of my IgG infusion as immunobuddies rather than an enemy making me feel fatigued, achy and stealing my night and part of the next day away. I also stopped looking at Tuesdays like I wanted to skip them altogether. Instead, I started to think about how I could make this routine into something a bit more enjoyable.
I used to just try and keep my stress low on Tuesday, and make an easy meal before I started my treatment (I won't share with you the perils of trying to cook whilst carrying around a pump—let's just say getting your lines caught on a cutting board makes you want to plan ahead!).
But now, not only do I get dinner all prepped and finished before I start my infusion, but I also make popcorn. Popcorn??? Yep. Because I've turned Tuesday into 'low stress, let's have fun' night. We'll turn on a show I love or put in a movie we've been waiting to see.
My kids used to say, "Oh, it's your treatment night," in an empathetic sad voice. Now, all of us have something to look forward to. My two hours pass and we've had a nice evening together. I'm still curled in a ball in the chair after my infusion is over, but at least I'm in pretty good emotional condition now.
And I get popcorn.
What sorts of things do you do help you cope with a rough time? I'd love hearing about it.
May our Lord bless and keep you.
 ***Novel release update: June is around the corner, and Jasmine will release digitally on the 15th. I'm finishing final edits as you read this, my book trailer is just about ready, and I'm going to have friends popping over here now and then to share about their books. See you next week.***