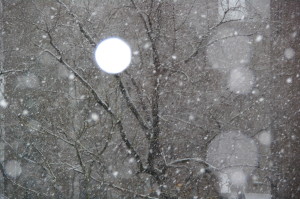 As I sit watching tiny flakes of snow drift to the ground outside my window, I find I'm in a contemplative mood. Today is the last day of 2012. And what a year it was. I find I remember many joys, all coming at the end of trials. There were difficult times dealing with fatigue and exhaustion, soreness and illness. But, there were also the clear times when the Lord supplied my need and gave me joy despite my circumstances. If you know me personally, you'll know my heart is preconditioned to be a pessimist. I don't mean to be, and I've struggled against it, but there it is nonetheless. God made me a trouble-shooter (where you look ahead and see the possible negative outcome of just about everything and do your best to make sure it doesn't go that way). Which is why I'm rather amazed at my ponderings.
Although there are many unknowns in my life right now, of which I've been sorely tempted to worry over—today I'm content. Dare I say hopeful? (GASP!) I can say with confidence that no matter what comes my way, the Lord will provide.
My prayer for you this New Year is that you'll find yourself looking forward, not back. That you'll grow in faith with the Lord. That, if you are suffering today, you'll be able to see past your circumstances to the One who provides true joy despite difficulties sifting down around you.
May your blessings be many, and may He keep you tightly in His mighty grasp.
Happy New Year!
1 Peter 1:3-9  Praise be to the God and Father of our Lord Jesus Christ! In his great mercy he has given us new birth into a living hope through the resurrection of Jesus Christ from the dead, and into an inheritance that can never perish, spoil or fade. This inheritance is kept in heaven for you, who through faith are shielded by God's power until the coming of the salvation that is ready to be revealed in the last time. In all this you greatly rejoice, though now for a little while you may have had to suffer grief in all kinds of trials. These have come so that the proven genuineness of your faith—of greater worth than gold, which perishes even though refined by fire—may result in praise, glory and honor when Jesus Christ is revealed. Though you have not seen him, you love him; and even though you do not see him now, you believe in him and are filled with an inexpressible and glorious joy, for you are receiving the end result of your faith, the salvation of your souls. (full text here).
Read More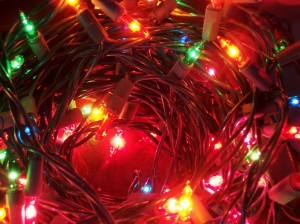 My heart is so saddened by the past few days. We've had shootings at our Clackamas mall, then our local pet store caught fire (nearly all the pets were lost), and now the shootings in Connecticut follow that up. I'm left feeling empty and sad. There are hundreds if not thousands in mourning this week—a week we're supposed to be preparing for Christmas and enjoying family traditions.
Seeing the flags flying at half-mast in town was a dampening reminder today. And while I drove around with my family, doing some last minute shopping and buying a much needed pair of boots for my daughter, I was struck by how life still moves on despite the loss. However, the twinkling lights, merry music and usual hope of the season is contrasted by loss. Deep, heart wrenching loss. It brings us back to where we lay our hope. Is our hope here on this Earth, or does it lay in the hands of our Savior?
I'm struck by the stories of unselfish love emerging out of the tragedy. From the people in the mall who stayed with the injured, even as they lay dying, to the teachers who risked (and lost) their lives protecting their students. And while some shout, "Where was God?" or claim He turned a blind eye because the schools have quit teaching about Christianity, I say He was right there in the midst of it. Because, where there is sacrificial love, there is the Son, and where the Son is, there is the Father.
So when I drive around this year, looking at the Christmas lights, I'm going to be remembering the sacrifice and loss of many—but especially the sacrifice of the One, who came to cast light into the darkness, to draw us unto Himself in our grief, to save us from our iniquities. Emmanuel—God with us. He promises never to leave us nor forsake those who belong to Him, no matter what evil plays out here in this world.
John 8:12 When Jesus spoke again to the people, he said, "I am the light of the world. Whoever follows me will never walk in darkness, but will have the light of life." 
Deuteronomy 31:6 Be strong and courageous. Do not be afraid or terrified because of them, for the Lord your God goes with you; he will never leave you nor forsake you.
Read More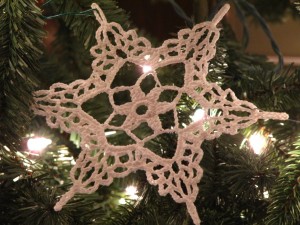 The word dedicated sure has changed meaning for me in the past four years since we've been eating an allergy free diet. It all started with my son, but as we did testing on the rest of us, we found we suffered from similar reactions and sensitivities to gluten, egg and dairy. So for the most part (notice I say most and you know who you are!), we avoid these ingredients. My son, though, has to have food made in a dedicated kitchen on dedicated equipment—so no eating out for us.
We read labels very carefully now—watch words are 'made on shared equipment' (a no-no for Seth) or 'made on dedicated equipment' which means there's nothing on that machinery or in the process that will contaminate his food. I look out for that word now—dedicated—it carries a positive feeling and gives me a sense of security knowing that what I'm about to give my son is safe for him to eat.
I started thinking how the significance of words change over time. I think we've gotten a bit lax about throwing around words to suit our meanings—so much so that they lose power over time. Dedication means wholly committed and set apart for a purpose. A synonym of dedication is devotion.
Some people are devoted to a sports team, or their work, or a political cause. Some folks are dedicated to the pursuit of a goal like a perfect education, the perfect house, maybe that dream vacation—and they'll stop at nothing to get there.
But, do we put that much passion and devotion into our relationship with God? If we forget about God the Father and think of Him as a far off entity, then we're probably not spending much with Him. Some people seem to want the relationship with God to happen magically. No work on their side, all the work on His.
To have a relationship with someone, you've got to spend time with them. Imagine living in a house with someone you never spoke to, or said one or two words to here and there…and when you hit your hand with a hammer yelled their name. And when things went awry in your life you turned around and told them it was their fault. Things probably wouldn't be going so well between the two of you.
The super good news is that our Lord is patient with us. He's not going to ask for a divorce or have you evicted from the house. He's waiting for you, longing for you—missing you.
I'd like to encourage you to devote as much time to the Lord as you can this holiday season. Read His word—it was written for you! Spend time in prayer. Talk to Him. Devote your time just for Him.
Colossians 3:17 And whatever you do, whether in word or deed, do it all in the name of the Lord Jesus, giving thanks to God the Father through him. (Full text here). 
Philippians 4: 8-9 Finally, brothers and sisters, whatever is true, whatever is noble, whatever is right, whatever is pure, whatever is lovely, whatever is admirable—if anything is excellent or praiseworthy—think about such things. Whatever you have learned or received or heard from me, or seen in me—put it into practice. And the God of peace will be with you. (Full text here).
Read More