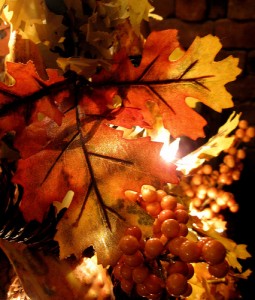 Here in the US it's Thanksgiving week. It's a time when a lot of people sit down and consider their lives and give thanks for what they have. I've struggled with this a lot since the diagnosis of my illness. It's hard for me to thank the Lord for things that other people don't have. Well-meaning people were telling me to be thankful I wasn't sicker. But, when I joined support groups for my disease, there were plenty of people who were more ill than me. Did I feel I was more blessed than them?
People thank God for their houses and cars and their health. They thank Him for their secure job, their wonderful marriages, and their perfect kids. I mean, we're told to count our blessings. But, what if what we think of as blessings aren't limited to these things?
There are millions and billions of people who don't have a laundry list of what the world would consider to be good things in their lives. They were just diagnosed with a scary disease, their spouses have betrayed them; they might be losing their homes, their jobs, their kids. Does this mean God doesn't love them as much as the guy in the big house in the fancy neighborhood next to you?
Very simply: no. God's Word says He loves His children and cares for them.
So, what if blessings aren't all about these things; what if the Father's 'good' is something different? His ultimate goal for us isn't that we live in cushy houses and have everything we think we want. Rather, it's having a personal, real, intimate relationship with Him.
Don't get me wrong—it's not bad to thank God for all the good things in your life—our hearts are to be grateful. But, we're told to be thankful in ALL things. Thankful for suffering? Yes. Thankful for heartache? That, too.
Think of this: if we're only thankful for the things we like, then when we hit on hard times (and there will be plenty) then we're going to be tempted to think that God is displeased with us. That maybe He doesn't love us as His word promises. That maybe He even hates us.
I can stand here today and say I'm thankful for my illness. I mean it. It's not easy to say—but it's true. I've seen a lot of blessings come out of this. I've met some amazing, encouraging people. I've been astounded by their faith in the Lord. Most importantly, I've become more assured than ever in the reality of the Father and His hand in my life.
So, as the song says, when we count our many blessings—maybe you should be thinking about the friends you've made during your trials; about your ability to come alongside others in their sufferings; and ultimately about the closeness you feel to the Father when He carries you through another day.
1 Thessalonians 5:16-18 Rejoice always, pray continually, give thanks in all circumstances; for this is God's will for you in Christ Jesus. (full text here)
John 3:16-21 For God so loved the world that he gave his one and only Son, that whoever believes in him shall not perish but have eternal life. For God did not send his Son into the world to condemn the world, but to save the world through him. Whoever believes in him is not condemned, but whoever does not believe stands condemned already because they have not believed in the name of God's one and only Son. This is the verdict: Light has come into the world, but people loved darkness instead of light because their deeds were evil. Everyone who does evil hates the light, and will not come into the light for fear that their deeds will be exposed. But whoever lives by the truth comes into the light, so that it may be seen plainly that what they have done has been done in the sight of God. (full text here)
Read More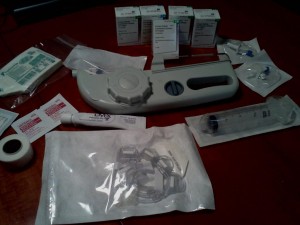 The other day, sick again (seriously!) I was at the doctor's office seeing a fill-in because I couldn't get into see my regular physician. As often happens, she didn't have a clue what CVID was—and she wasn't really up on primary immunodeficiency. And when I said IgG replacement a tiny light went on—but still, not getting it.  (I make time to mention that she's seen me twice before and hadn't a clue).
If you don't know about CVID, then here's a window: I went from a sore throat at 2:30 to full on bronchitis by 4:00. Colds hit fast, and hard! Considering I had pneumonia in September…well, you get the idea. It really wears down a person.
Anyway, I'm not blogging to come down on a doctor or whine about colds (tempting…but no). I'm sharing a change in attitude.
When I first started weekly subcutaneous IgG replacement therapy, I was hopeful, but scared (it's a blood product after all, and stuff can go wrong). It involves pumps and syringes and needles—but I was so glad to have help, I did it. Then, at about 10 weeks, I started to have panic attacks—heart racing, sweat-breaking, hand shaing attacks (you get the idea). It got harder and harder to insert the four needle lines and sit there for 2 1/2 hours infusing, afraid to move. After much prayer, and changing some pre-meds, things got easier, and by 25 weeks I realized I needed to start thinking differently about IgG, or the stress would do me in. I started to picture the 90mls of fluid as friends (this came from some very early advice via a friend who'd overcome cancer a couple years ago). I came up with a positive sounding name for my treatment. Oh, and I prayed. A lot.
Guess what? It worked. So super well, that I've incorporated it into my thinking, and was brought up short at the doctor's office, not realizing I'd used the term. When I got done explaining my rare condition, the doctor stared at me blankly. She asked, "What are these 'immuno-buddies' you keep referring to?"
I stared back at her and clicked through our conversation in my head. Yep. Instead of saying I was taking immunoglobulin replacement therapy, I'd said, "I guess my immuno-buddies haven't had this bug yet."
I went on to explain my thinking and what the term meant to me. She still looked a bit blank, but I wasn't thinking about that. I was thinking about the turning point in my therapy/care of this disease. It felt like pure victory to me.
I'm not going to say it's fun, or a breeze now, because it's not—but I know this is helping me, strengthening me, and God's answer for keeping me safe for now. Maybe one day they'll come up with a daily infusion, like they have for diabetes (that'd be so very cool). But, for now, I have my weekly immuno-buddies.
Facing these kinds of challenges can either tax our strength and tear us down, or make us stronger depending on our attitude about it. I'm not saying it's a quick fix or instant change, but with daily prayer and submission to the Father, we can be more than conquerors in this life.
Romans 8:31, 37-39 What, then, shall we say in response to these things? If God is for us, who can be against us? …No, in all these things we are more than conquerors through him who loved us. For I am convinced that neither death nor life, neither angels nor demons, neither the present nor the future, nor any powers, neither height nor depth, nor anything else in all creation, will be able to separate us from the love of God that is in Christ Jesus our Lord. (full text here)
Read More