Peace of Mind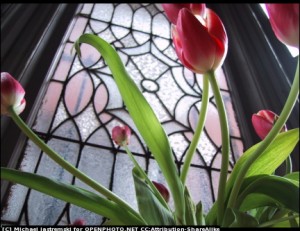 An email from a relative reminded me today that life is fragile. After watching his wife lay gravely ill in the hospital for the past week, its tenuous nature is more apparent than ever. He's openly sharing struggles and triumphs. And their appreciation for prayer is apparent. In the midst of their trials, which are tremendous, he's finding things to rejoice about.
Oftentimes, though, it's just the opposite. In talking with some whom I know are hurting, there seems a pervasive attitude that if they admit they have difficulties, this would cast some sort of shadow on God. They feel pressured to put on a happy face, not be sad, not grieve. I, myself, have been told this. Try as I may, it's been hard for me to understand. But I think I'm finally glimpsing where it's coming from.
We live in a sales orientated society. What can that product do for me? Watch out—if it doesn't do what I expect, then I won't buy it again.
I openly admit that my prayers haven't always been answered. God is not a magic genie. He's not my God because I can manipulate Him by saying certain words (seriously, do you want to worship a God you can manipulate?). I can pray, and if it's not in God's greater plan, whatever the reason, I won't have my prayers answered the way I want. Does that mean God doesn't love me? That I shouldn't tell people about it, because then, when we're sharing about God, they might not buy it?
Well, there's the problem. God is not for sale. The relationship He offers through belief in Christ is free. In fact, Christianity is the only free religion. Free of guilt, free of doubt, freedom of forgiveness—you don't have to work for it and you can't pay for it. Grace is given to all who ask.
My God is mighty. Jesus came to save the sinner, the frail and the poor, the weak and the sick. He did not come to save us out of our circumstances, but in the midst of them. And in those trials, thanks be to Him, we can have great peace.
Mark 2:17 On hearing this, Jesus said to them, "It is not the healthy who need a doctor, but the sick. I have not come to call the righteous, but sinners." (Full text here) 
Philippians 4: 4-7 Rejoice in the Lord always. I will say it again: Rejoice! Let your gentleness be evident to all. The Lord is near. Do not be anxious about anything, but in every situation, by prayer and petition, with thanksgiving, present your requests to God. And the peace of God, which transcends all understanding, will guard your hearts and your minds in Christ Jesus. (Full text here)