Everyday I Write The Book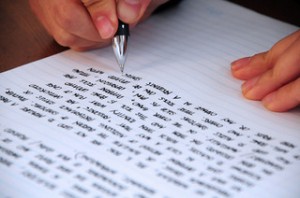 Upon hearing I'm going to have my novel, Jasmine, published (releases in June 2013), just about one in seven people tell me they've always wanted to write a book. And then I'm asked, hope filling their eyes, how long it took.
I've always had one story or another rolling around in my head for as long as I can remember. But, the actual writing process was difficult for me when I was younger, so I took turned to fine arts and carried that through college. I don't regret it a bit, because studying fine arts helped me be a better watcher and analyzer of people and spaces around me.
About the time I had my daughter, I put away my paints and drawing equipment. My dear girl didn't like to nap, and loved getting into my colorful things. By the time I'd set up an area and start on a project, she'd wake up and grab my brushes and pens. This frustration for me, though, forced me to turn to a media that could be cleaned up rather quickly—and one I could go back to easily. Writing. My world opened!
I started writing short stories and my first novel about fourteen years ago. That novel turned into a huge learning and proving ground for me. It was at that point I started to attend writer's conferences. And my world opened even further! I started taking classes, networking and buying up books on writing. I couldn't wait for the next conference to submit things and get feedback. I wanted to be better at my craft. I was hungry for it.
I've now completed three novels, and am in process of writing my next. There's no easy way to publishing, even if you self-publish (you want it to be perfect, right?). Here's some advice I followed, and if you want to write, I think it'd do well for you, too:
Show up at the computer (or notepad) as often as you can and write. Write something!
Read. A lot. Read books in the genre you want to write in, and then read everything else. Fiction, non-fiction, magazines, what have you. Study books on writing and the creative process.
Attend writer's conferences, take classes, listen to veterans in the field, and take advice humbly. Submit, submit, submit your stuff when you have opportunity. Connect with other writers, share and encourage each other.
Have a fire in your heart to become better—strive for it. Take those classes where you have to write something and share it aloud (scary? You bet, but invaluable). Join a critique group. Get feedback as often as you can from people you respect. If you write in a bubble, you'll never improve. Trust me.
If you have a story in you, and you're serious about getting it out of you, then do everything you can to do it.
I love hearing from you! Are you writing, or do you want to write? Tell me about it in the comments below.