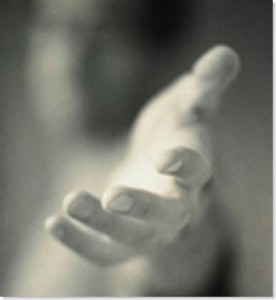 I took my son to see his specialist the other day. While we were sitting there, he played with his Lego men and another mom sat reading a book to her son. Across the room, a couple held their daughter and made little jokes. It's unspoken that we're all there for a reason—our kids suffer from some sort of gastrointestinal illness. As we pretended we were there for 'normal' reasons, a woman entered, pushing her disabled young son in a raised wheel chair. As soon as the door opened, the boy made himself known. He wailed in a most heart-wrenching way.
As she checked in at the receptionist's desk, his wails grew louder, more intense. He sobbed, screamed and then began a rasping gag. I surmised he had lung issues, with whatever other health issues he had. And he was one unhappy boy.
Everyone in the room immediately got quiet and tried looking at anything in the room except for the crying boy. My son's hands stilled over his toys but, instead of looking away, stared openly at the other boy, his own eyes filling with tears. Mine soon followed. He looked up at me, face full of fear mixed with compassion. We've had a lot of moments these past four years that have made the frailness of life very apparent to us—but seeing someone so young suffering really hit home with Seth.
The boy's sobs and rasps quieted as his very patient mother took off his coat and brushed her hands down his arms, adjusting his legs and shifting his Spongebob pillow behind his neck to make him more comfortable. It was then I noticed the boy's earplugs. As the patients were called, they left the room with relief. I have to admit, I was hoping for our turn—as the boy still had not quit crying and gagging on phlegm. I felt tense from his screams and it'd only been fifteen minutes—and then I looked at the mother's face. She seemed so alone. I wondered if she had anyone to lean on.
I put myself in her place, isolated, care-giving for her son all day long, and probably all night long as well. Exhausting. For them both.
Instead of acting like they weren't there, I engaged her in conversation past his wails and rasps. I asked if he had breathing problems, and she said he'd suffered a brain injury so his lungs and muscles didn't do what they were supposed to, to help clear things out. He was five. As she spoke, he calmed a bit and then another person entered the room and the door buzzer went off—and so did the boys cries.
I said, "He hates his chair, does he?" I don't know what made me think that. I remember my own son, hating his car seat so much that he'd scream the entire time he was in it. He wasn't uncomfortable, he wasn't hurting, but he hated it and would scream bloody murder.
Her eyes lit up. "Yes, he does. And loud noises, they frighten him." She motioned to the ear plugs. For a moment, we were just two mom's visiting, sharing notes about our boys. Then it was his turn, and she gave me a grateful smile and wheeled her son into their appointment.
I looked down at Seth, still sitting quietly, thinking. "That was hard, wasn't it?" I asked him, knowing full well he'd be thinking about the boy and how hard his life was for days. He nodded. "Let's pray for that mom and boy, okay?" And he nodded again. We took some time right there to pray.
It's our nature to avoid suffering. It's hard and scary and it makes us feel insecure. Life can be like that.  But I think worse than suffering, is pretending it doesn't exist. There are people in pain all around us, even if they aren't crying out—it'd do us all well to stop and listen, to be there and be compassionate. To come alongside them, a shoulder to lean on. And pray.
Romans 12:15  Rejoice with those who rejoice; mourn with those who mourn. (full text here)
Mathew 7:12 So in everything, do to others what you would have them do to you, for this sums up the Law and the Prophets. (full text here)
1 John 4:7-12  Dear friends, let us love one another, for love comes from God. Everyone who loves has been born of God and knows God. Whoever does not love does not know God, because God is love. This is how God showed his love among us: He sent his one and only Son into the world that we might live through him. This is love: not that we loved God, but that he loved us and sent his Son as an atoning sacrifice for our sins.  Dear friends, since God so loved us, we also ought to love one another.  No one has ever seen God; but if we love one another, God lives in us and his love is made complete in us. (full text here)
Read More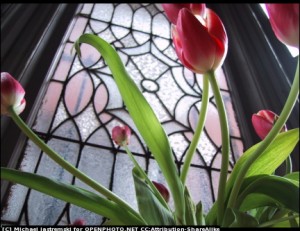 An email from a relative reminded me today that life is fragile. After watching his wife lay gravely ill in the hospital for the past week, its tenuous nature is more apparent than ever. He's openly sharing struggles and triumphs. And their appreciation for prayer is apparent. In the midst of their trials, which are tremendous, he's finding things to rejoice about.
Oftentimes, though, it's just the opposite. In talking with some whom I know are hurting, there seems a pervasive attitude that if they admit they have difficulties, this would cast some sort of shadow on God. They feel pressured to put on a happy face, not be sad, not grieve. I, myself, have been told this. Try as I may, it's been hard for me to understand. But I think I'm finally glimpsing where it's coming from.
We live in a sales orientated society. What can that product do for me? Watch out—if it doesn't do what I expect, then I won't buy it again.
I openly admit that my prayers haven't always been answered. God is not a magic genie. He's not my God because I can manipulate Him by saying certain words (seriously, do you want to worship a God you can manipulate?). I can pray, and if it's not in God's greater plan, whatever the reason, I won't have my prayers answered the way I want. Does that mean God doesn't love me? That I shouldn't tell people about it, because then, when we're sharing about God, they might not buy it?
Well, there's the problem. God is not for sale. The relationship He offers through belief in Christ is free. In fact, Christianity is the only free religion. Free of guilt, free of doubt, freedom of forgiveness—you don't have to work for it and you can't pay for it. Grace is given to all who ask.
My God is mighty. Jesus came to save the sinner, the frail and the poor, the weak and the sick. He did not come to save us out of our circumstances, but in the midst of them. And in those trials, thanks be to Him, we can have great peace.
Mark 2:17 On hearing this, Jesus said to them, "It is not the healthy who need a doctor, but the sick. I have not come to call the righteous, but sinners." (Full text here) 
Philippians 4: 4-7 Rejoice in the Lord always. I will say it again: Rejoice! Let your gentleness be evident to all. The Lord is near. Do not be anxious about anything, but in every situation, by prayer and petition, with thanksgiving, present your requests to God. And the peace of God, which transcends all understanding, will guard your hearts and your minds in Christ Jesus. (Full text here)
Read More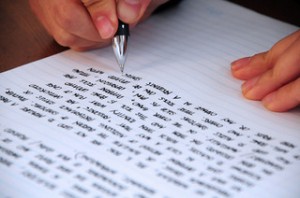 Upon hearing I'm going to have my novel, Jasmine, published (releases in June 2013), just about one in seven people tell me they've always wanted to write a book. And then I'm asked, hope filling their eyes, how long it took.
I've always had one story or another rolling around in my head for as long as I can remember. But, the actual writing process was difficult for me when I was younger, so I took turned to fine arts and carried that through college. I don't regret it a bit, because studying fine arts helped me be a better watcher and analyzer of people and spaces around me.
About the time I had my daughter, I put away my paints and drawing equipment. My dear girl didn't like to nap, and loved getting into my colorful things. By the time I'd set up an area and start on a project, she'd wake up and grab my brushes and pens. This frustration for me, though, forced me to turn to a media that could be cleaned up rather quickly—and one I could go back to easily. Writing. My world opened!
I started writing short stories and my first novel about fourteen years ago. That novel turned into a huge learning and proving ground for me. It was at that point I started to attend writer's conferences. And my world opened even further! I started taking classes, networking and buying up books on writing. I couldn't wait for the next conference to submit things and get feedback. I wanted to be better at my craft. I was hungry for it.
I've now completed three novels, and am in process of writing my next. There's no easy way to publishing, even if you self-publish (you want it to be perfect, right?). Here's some advice I followed, and if you want to write, I think it'd do well for you, too:
Show up at the computer (or notepad) as often as you can and write. Write something!
Read. A lot. Read books in the genre you want to write in, and then read everything else. Fiction, non-fiction, magazines, what have you. Study books on writing and the creative process.
Attend writer's conferences, take classes, listen to veterans in the field, and take advice humbly. Submit, submit, submit your stuff when you have opportunity. Connect with other writers, share and encourage each other.
Have a fire in your heart to become better—strive for it. Take those classes where you have to write something and share it aloud (scary? You bet, but invaluable). Join a critique group. Get feedback as often as you can from people you respect. If you write in a bubble, you'll never improve. Trust me.
If you have a story in you, and you're serious about getting it out of you, then do everything you can to do it.
I love hearing from you! Are you writing, or do you want to write? Tell me about it in the comments below.
Read More