These Eyes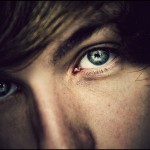 Comparisons happen in our minds all day long. How much more caffeine is in that 24 oz latte than the 16 oz? Is that spider bigger than the one I saw yesterday, or is that one of its many babies? If I use that super extensive homeschool curricula, will I churn out a gifted student poised to take on the world? (Can you tell we're getting ready for our first year of homeschooling through high school?).
Comparisons are natural—it's something our brain does without thinking about it. And that's where the danger lies. Our eyes. I might see a house that is larger than my own and think about all that extra space I could use and become discontent. Or, see that super in-shape person on TV and be tempted to feel badly about my body. In our subconscious state, comparisons can turn to coveting before we can blink.
When I first entered this flare-up of CVID last year, I had well meaning people say, "It could always be worse." Or, "You could be as sick as this other person, be grateful you're not them." I realized right then, that's not a good scenario. Because in comparing myself to others, ill or well, rich or poor, gifted or normal, I'm going to be tempted to do one of two things: I'll either gloat and feel self-righteous, or I'll wallow and start to feel sorry for myself. Both are sinful.
It's not an easy thing to do, to walk through this life and keep my eyes on God's plan and off of what is happening in other people's lives—to be objective. But, it's something worth striving for. God's got a different road for everyone to travel. It does Him a disservice if I'm always wishing I was someone else.
If you've been walking (reading) alongside me this past 18 months, you'll know I've been awfully sick. The good news this week is that I've been administering immunoglobulin replacement therapy for 6 months now, and I'm about 60% better than I was last year at this time. That is HUGE. I'm so grateful to God for treatment for my illness.
If you're suffering and are waiting for healing, please know that God hears your prayers—and He's got a plan for you. It might involve miraculous healing. It might involve being healed through modern medicine (for which I'm very grateful, because I'd be long dead from any number of things by now). But, whatever happens, whatever the path, He's on it with you. He promises that to His children. Keep your eyes on Him.
Deuteronomy 31:6 Be strong and courageous. Do not be afraid or terrified because of them, for the Lord your God goes with you; he will never leave you nor forsake you."
Hebrews 13:5 Keep your lives free from the love of money and be content with what you have, because God has said, "Never will I leave you; never will I forsake you." So we say with confidence, "The Lord is my helper; I will not be afraid. What can mere mortals do to me?"
Would you do me a favor? If you like what I've written, please share it with someone else 🙂 And I'd love to hear your comments and thoughts!