Right Here Waiting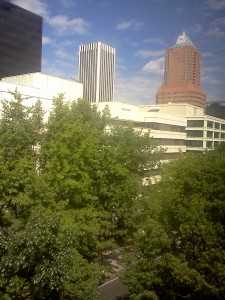 The other day I was hanging out with my husband at his workplace. I've done this twice this month. It's fun—downtown Portland all bustling with people and busyness. Well, except for the reason I'm doing it: our car has been in the shop. Again.
It's not like a 'little' issue either. It's like every time we turn around some additional thing breaks. I know what you are thinking—the shop saw us coming a mile away and are taking advantage of us. But, they really aren't. One of the issues was very hard to diagnose, and the others are due to wear and tear…it just happened all at once. All that's left is the engine and transmission. Good thing I'm not superstitious! Knock on melamine and fiberboard cubicle walls.
I can't help thinking that if I worked here every day, I'd be more than a bit distracted by the view. It's very pretty. Lots of green trees, blue sky (today it IS!), little birds flitting by. And as I'm a people watcher, people on the street…er, across the way, cleaning their windows catch my eye. Right now, the gal over on the 5th floor is doing a very nice job getting rid of all those streaks. Shiny!
I don't mean to spy, but I have the unconscious tendency to look into windows as we drive by and see families sitting down to dinner, or peek at the interior of a house and admire the decor. I'm not casing the joint, I promise! With my background in interior design, I'm always fascinated at the different uses of spaces. Then my writer mind kicks into high gear and I start to imagine the person/family that lives there:
The older woman across the way values her view. She spends precious hours of her one day off a week to clean the windows and enjoy the last few days of nice Pacific Northwest weather before the rains come. Her favorite thing to do it sit in her deck chair and enjoy a cup of tea and a scone before she dashes off to work cleaning rooms at a nearby hotel. She can't really afford the satellite dish she's got hanging off the balcony. She got it for her son who comes by a couple times a month. Her friends tell her she shouldn't waste the  pittance she's allowed to earn after retirement—but she wants him to know she loves him. One day he'll come over and not turn on the TV at all, and they'll talk for hours. Maybe she'll even buy a second deck chair.
How do you pass the time when you are waiting?