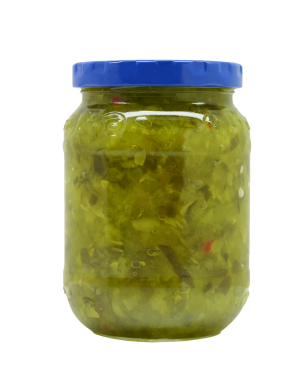 Because of my family's food allergies, we've become major label readers. And I have to admit, it's disheartening sometimes. I mean, they sneak gluten into just about everything. Egg and dairy are all around us. Sometimes, just walking through the store, you feel like food companies are out to get you!
I was at the grocery store today, looking for relish that didn't have food coloring in it. I know…food coloring? Cucumbers are green! Silly companies! Guess what? Couldn't find any. My thought processes started buzzing. American food companies are following the way of the fashion industry. You're probably wondering what I'm talking about—try to follow my though process, it can get a bit convoluted at times. American food companies are doing what the fashion industry has been doing for years. They are covering up imperfection in foods with dyes (rather like style mags cover up their models with airbrushing). But…in pickles? I've seen homemade relish and pickles—yep, still green. But, dare I say, not green enough? (Just an FYI—the foods the US exports to Europe have to be free of dyes because of a ban they instated due to safety concerns. I'll let you ponder that one.)
Now, take a leap with me: our striving to cover up imperfection can get in the way of our spiritual life. A lot of people get so focused on the surface, they don't ever take a peek inside. They are worn out trying to live up to other's expectations. They are exhausted trying to be perfect and to do it all. People might put off starting a deeper relationship with their creator until they've got it all together. I do that sometimes, too. I plan to have a time set aside to spend with the Lord. But, I've got to get all these other things out of the way first! Or worse yet, people try to become perfect enough to approach God on their own.
The Bible says we can't do it by ourselves. That we'll never measure up, never be perfect enough to approach God. In our American perfectionism, this is rather a bummer. You mean, I can't cover up my sin enough to approach God on my own? Mix in a little food coloring to make myself brighter and more appealing? Not so much. The good news is, Jesus says that if we accept Him as our savior, He'll approach God for us. He'll be our intercessor. God will forgive our imperfections and sins because the One who is perfect died in our place. We don't have to wait until we have it all together, or cover up our sins or short comings, to deepen our relationship with God. We just have to accept the gift of grace Jesus offers to us.
Romans 5: 7-11 You see, at just the right time, when we were still powerless, Christ died for the ungodly. Very rarely will anyone die for a righteous person, though for a good person someone might possibly dare to die. But God demonstrates his own love for us in this: While we were still sinners, Christ died for us. Since we have now been justified by his blood, how much more shall we be saved from God's wrath through him! For if, while we were God's enemies, we were reconciled to him through the death of his Son, how much more, having been reconciled, shall we be saved through his life! Not only is this so, but we also boast in God through our Lord Jesus Christ, through whom we have now received reconciliation. (Read in context here.)
Read More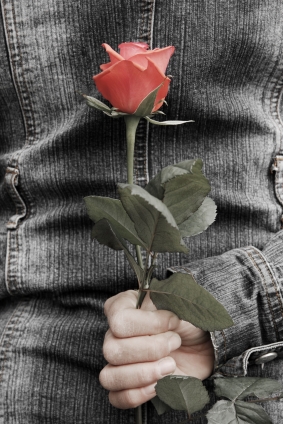 Happy Valentine's Day. Now, I know that the validity of this day is often called into question by naysayers who claim the greeting card industry started it all—but if you do a bit of research, you'll find it was first founded by a pope to honor Christian martyrs. Then, in the 15th century it turned into a day to honor loved ones via gifts of candy and notes. And THEN the greeting card companies got into the game. So, people get all worked up about how it has to do with marketing and…well…it probably has a lot to do with it. After all, candy sales go up, and so do flower sales. But, it's also a good excuse to tell loved ones how much they mean to us.
When I was in high school, my school sold roses on Valentine's day to make money for programs. And every year I hoped to get one from someone—but I never did. A couple times during the day, rose deliveries would be made in the classrooms, and I'd hold my breath, thinking maybe some unnamed admirer would confess their crush through a rose. Throughout the day, you could see clearly who was 'loved' by the rose placed prominently on their desk, carried proudly to each class. For me, though, it was not to be.
What I did not know at the time was that one day I'd marry a man who gave me flowers throughout the year. A man who would make personal sacrifices for me time and again. Who would do anything to protect and provide for me and our two kids. Who would stand by me in trial, pray for me during illness, and rejoice with me in blessings.
And as wonderful as I think my husband is (and you may think your significant other is), there's One who loves us better. He set the standard on love—one that we can't possibly meet without Him.
But, maybe you're not feeling so loved or lovely. You're thinking, "What's love got to do with it?" You might even be angry at where you are in life. If you are today like I was once, wishing and hoping to be loved and appreciated, feeling unnoticed—know that you are not only noticed, but fully known. And that sacrificial love has been given to you, a free gift for the taking.
1 John 4: 7-12  Dear friends, let us love one another, for love comes from God. Everyone who loves has been born of God and knows God. Whoever does not love does not know God, because God is love. This is how God showed his love among us: He sent his one and only Son into the world that we might live through him. This is love: not that we loved God, but that he loved us and sent his Son as an atoning sacrifice for our sins. Dear friends, since God so loved us, we also ought to love one another. No one has ever seen God; but if we love one another, God lives in us and his love is made complete in us. (read in context here)
Read More