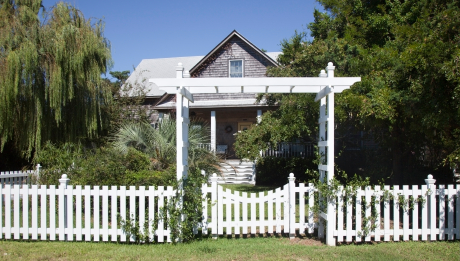 White picket fences often symbolize the American dream of owning a home; they might bring cozy feelings or fond memories. But, I have a different sort of memory when I look at them.
When I was a kid, I was a fairly good kid, but I made some mistakes. Like the time when I stayed over at a friend's house, and we snuck out. For some reason we got it into our heads that it'd be really cool to spray paint stuff. Now, before you start shaking your head at me, please know I am NOT proud of this moment in my life.
Our paint color of choice was silver, for no other reason than it stood out as we scrounged in her mom's storage closet. After midnight, we climbed out of her bedroom window and slunk off in the dark to make our mark on the world. I was 13.
First, we sprayed our names on the sidewalk (I didn't say we were smart about this). Then we colored some bushes that took on an alien-like glow under the moonlight. As we ran around the corner snickering from the brilliance of it all, we spied just the thing we'd been looking for: A white picket fence. We proceeded to paint ever other picket with a silver circle. Just as we finished our work, the porch light came on and we tore off up the street, panting in fear. By the time we'd reached her house though, the fear was gone, and even the excitement of our evil deed had dwindled. I climbed back through her window, into my sleeping bag and never gave it another thought. At least not for several years.
Three years later, my parents bought a house. It was the first house I'd lived in since I was a baby, our having rented until then. We got all moved in and were taking stock of a few maintenance things that needed doing. My mom stepped outside to the front sidewalk and I heard her exclaim, "Who in the world would paint silver circles on a white fence?"
Until that moment, I had not given one thought to my little painting excursion. I froze, my heart beating wildly in my chest. How likely was it that we'd buy the house I'd defaced? I mean, really? My mom called me outside, and as I strode through the gate, all time stopped. Yep. The fence.
I'm not sure of the exact words right now, but our conversation went something like this:
"I mean, who would do that?" She pointed to some faded dots.
I swallowed hard. "I did."
"What?" My mother's eyes went from disbelief, to shock, to shame. And I shrank about four feet as I admitted what I'd done. Before she doled out punishment for my crime, I came up with a solution.
"I'll repaint it."
While I painted, I considered what transpired. It wasn't just chance that in the whole town, we'd bought this house. I knew that, deep down. I had been given a opportunity to make things right, to confess my sin and ask for forgiveness. And I learned another lesson that day—God knows all, sees all and wants us to know that. I learned I was accountable for the things I did, even the things I thought I'd done in secret.
When I look at picket fences, instead of feeling guilt, I'm assured. God cares for me—enough not to let me get away with something I shouldn't have, enough to want a relationship with me, enough to remind me that no matter what is happening in my life, good or bad, He knows. What a comfort that is.
Psalm 139: 1-6 You have searched me, LORD, and you know me. You know when I sit and when I rise; you perceive my thoughts from afar.You discern my going out and my lying down; you are familiar with all my ways.Before a word is on my tongue you, LORD, know it completely. You hem me in behind and before,and you lay your hand upon me. Such knowledge is too wonderful for me, too lofty for me to attain. (Read the full text here.)
Read More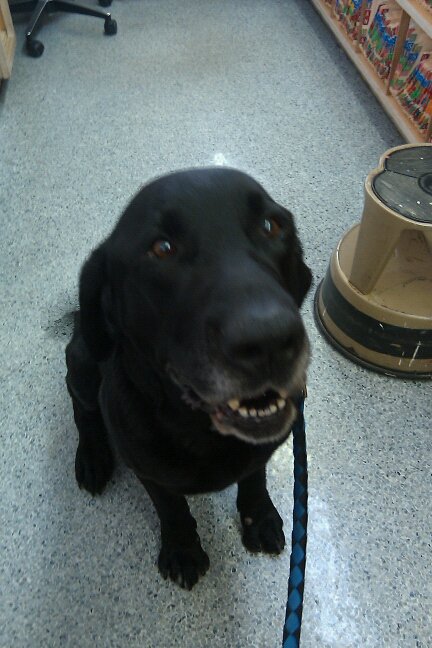 The other day I saw a photo of my sister-in-law's recently rescued dog looking devotedly up into the face of his new owner. In the dog's eyes, I could clearly see devotion and loyalty, but there was also something else: gratefulness. He was grateful to be chosen and rescued from a life of neglect, starvation and probably death.
I've seen the same thing in my rescue cat's golden eyes. His gaze follows me whenever I pass through the room. He waits to see if I'll come and pet him, and often times he'll jump down from wherever he is and rub against my legs. He was near death when we took him in from the cold, and ever since he's looked at me with that same devotion. We've had him five years now, and he still follows me with those attentive eyes wherever I go. I find his devotion sweet…except in the middle of the night when he gets chatty.
It's Easter, and we've been reading about Jesus suffering, burial, and resurrection. It's something we do every year, to remember the final sacrifice for sin to bridge the gap between our sinful selves and God. He paid the price for anyone who asks. I was raised in the church, prayed for forgiveness and accepted Jesus as my savoir at the age of ten. So, I've heard the story countless times. I have to admit, sometimes I take for granted that God is there, and that, because of what Jesus did, I have a direct line to Him.
Seeing the dog's eyes, that look, reminded me that God rescued me from a life separate from Him. That he chose to save us, to save me—He didn't have to. He rescued me from a life without purpose; a life of potential loneliness and helplessness; a life of complete separation from Him, and eventually death.
The photo made me ponder. Do I look to God with the same adoration that my cat gives me? Do I give Him, who is completely worthy, my full attention? I confess—I don't. I get caught up in the trials of my life, and don't appreciate the life bought for me by Jesus' sacrifice. I forget He's there for me, in good times and bad. Truly, He not only deserves my devotion, He desires a relationship with me. That very thought is mind blowing, and life altering.
I hope this Easter you'll take time to remember the sacrifice made for you, and look with wonder and devotion at the Father who, through His Son, and made a way to rescue you.
Romans 5:6-8 You see, at just the right time, when we were still powerless, Christ died for the ungodly. Very rarely will anyone die for a righteous person, though for a good person someone might possibly dare to die. But God demonstrates his own love for us in this: While we were still sinners, Christ died for us. (Read the full text here.)
John 3:16-21  For God so loved the world that he gave his one and only Son, that whoever believes in him shall not perish but have eternal life.  For God did not send his Son into the world to condemn the world, but to save the world through him. Whoever believes in him is not condemned, but whoever does not believe stands condemned already because they have not believed in the name of God's one and only Son. This is the verdict: Light has come into the world, but people loved darkness instead of light because their deeds were evil.  Everyone who does evil hates the light, and will not come into the light for fear that their deeds will be exposed.  But whoever lives by the truth comes into the light, so that it may be seen plainly that what they have done has been done in the sight of God. (Read the full text here.)

Read More