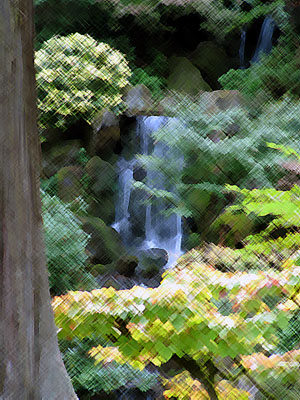 I've always like Impressionist paintings. Several years ago, I had the opportunity to see a display of Monet's paintings at the Portland Art Museum. I'd been an admirer for years, but seeing them in person amazed me. There almost wasn't enough room to see them properly–to see them best, it's at a distance. Up close, the paintings looked like nothing more than a disorganized mass of dabbed earthy colors, blending reds, oranges, purples, greens and blues. But at a distance, the dots and dabs of color separated into wonderful forms and shapes delineating lily pads, bridges, and groups of picnickers all washed in an otherworldly light.
In my last blog, I mentioned my husband was unexpectedly looking for work–and although we were surprised, God wasn't. In the midst of all of that I had doctor appointments and specialist appointments (you know how hard it is to get in with a specialist) and didn't know if I could keep them all if we had to change  insurance companies. God provided another job in a week's time, with the same contracting company at the same rate and insurance, so nothing had to change at all. Except where my husband goes to work.
Loss of employment, poor health, troubling relationships–all these things can blindside me and draw my focus on the little dabs, not on God's big picture for my life. They can tempt me to fear and worry, to feel helpless and out of control. But,  if I remember to take a step back, pray and let go of my own expectations and trust in my Father's, then it becomes clear. I might not know the reason for it all now, but one day it will all be made complete. I look forward to that day.
1 Corinthians 13: 8-12  Love never fails. But where there are prophecies, they will cease; where there are tongues, they will be stilled; where there is knowledge, it will pass away.  For we know in part and we prophesy in part,  but when completeness comes, what is in part disappears.  When I was a child, I talked like a child, I thought like a child, I reasoned like a child. When I became a man, I put the ways of childhood behind me.  For now we see only a reflection as in a mirror; then we shall see face to face. Now I know in part; then I shall know fully, even as I am fully known.  (Full text HERE)
Read More