Progress Report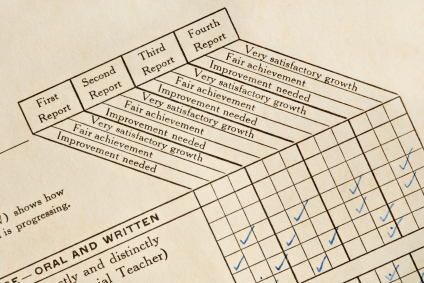 I got a package today from my mother. Inside were Christmas presents of and tucked to the side, I found a packet of old report cards. My mother had saved each and every one of them (since the 1st grade). Thanks Mom!
I sat down to read them, and saw a lot of poor marks at first. Then I saw great improvement. And then more poor marks. Now, I can see a direct correlation between what was going on in my private life (dealing with my parent's divorce, feeling shuffled around, my mother's 2nd marriage and other hard issues) and the marks on the page. I did the best with the teachers who looked past my chatty bravado (sometimes explosive anger) and saw the little girl inside. I did my worst with teachers I didn't like and whom I'd exasperated beyond their limits (not sure about the chicken or egg factor here). Let's just say, some years I spent more time sitting outside the classroom, than inside. We won't talk about junior high—not sure how I got out of there alive. By the time high school rolled around, I'd grown more serious about school. But there was always that direct correlation between my personal life, the level of respect I had for my teacher, and my grade.
My faith made the biggest impact on me. I started to realize that what I did and how I did it mattered, not just for those I was working for, but to Jesus. Every little thing, even the most insignificant thing, was to be about Him—not me.
I'd like to report to my teachers that some things haven't changed since school. I often talk in class, and find it VERY hard to sit still. I'm thankful for spell checker. I like to have things go my way in a debate. I hate doing busy work. There are sevearl areas of my life that 'need improvement.' However, other things have changed drastically. I'm now self-motivated. I share. I love to read. I still work the hardest for those I respect, but can now do a fairly good job for those I don't. And my citizenship has improved about 100%.
Colossians 3: 23-24 Whatever you do, work at it with all your heart, as working for the Lord, not for human masters,  since you know that you will receive an inheritance from the Lord as a reward. It is the Lord Christ you are serving.
Ephesians 6: 5-8 Slaves, obey your earthly masters with respect and fear, and with sincerity of heart, just as you would obey Christ. Obey them not only to win their favor when their eye is on you, but as slaves of Christ, doing the will of God from your heart. Serve wholeheartedly, as if you were serving the Lord, not people, because you know that the Lord will reward each one for whatever good they do, whether they are slave or free.

Hebrews 4: 14-16 Therefore, since we have a great high priest who has ascended into heaven, Jesus the Son of God, let us hold firmly to the faith we profess. For we do not have a high priest who is unable to empathize with our weaknesses, but we have one who has been tempted in every way, just as we are—yet he did not sin. Let us then approach God's throne of grace with confidence, so that we may receive mercy and find grace to help us in our time of need.